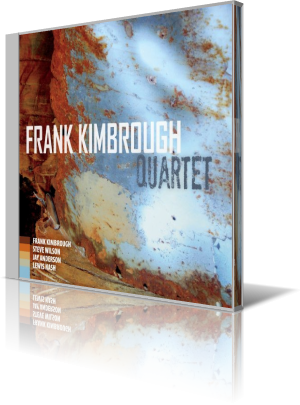 Decades of working with one another in various ensembles ultimately leads to Frank Kimbrough's
Quartet
(Palmetto Records, 2014).
The pianist calls on three longtime friends for a free-spirited, straight jazz set. With Kimbrough are Steve Wilson, alto and soprano saxophones; Jay Anderson, double bass; and Lewis Nash, drums.
"The Call" opens the set. It begins in ambient fashion, with the piano playing freely out front, while bass and drums go through some loosening-up rolls. The alto sax comes in briefly, steps back, then returns for a brief lead, then gives way to the piano again. The piece has no melody to speak of. It's mainly Kimbrough, expressing himself without confinement. Toward the end, Wilson is more expressive when he returns toward the end. Though each player appears to be doing his own thing, it all fits as they complement one another rather than compete.
"Kudzu" is an upbeat, swinging piece. Kimbrough's lines underneath the alto are like something from the Vince Guaraldi playbook. Anderson's bass line is prominent, whether supporting the sax or the piano. Nash gets his lick in, too. Though a bit more structured than some of the other tracks, it still has a strong sense of improvisation.
Kimbrough wrote seven of the 10 songs on
Quartet
. The roots of this project date back to the late 1970s, when Kimbrough and Nash were students at Arizona State University. Thirty years later, the two reunited in Ryan Truesdell's Gil Evans Project. Wilson and Anderson were also part of that ensemble. Kimbrough has contributed to more than 60 albums, including Maria Schneider's 2013, Grammy-winning
Winter Morning Walks
.
Quartet
is his 12th as a leader.