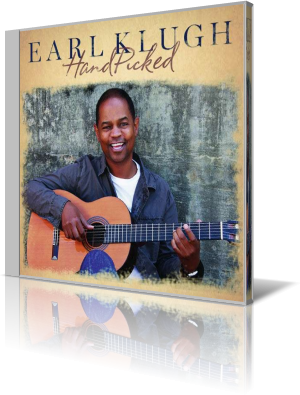 Using written words to describe sound, particularly in an effort to assist consumers in choosing what to buy, is a challenge within itself. It can be even more difficult when the music is instrumental, one player with no accompaniment. However, the task is much more user-friendly when the songs are well-known, such as the
Hand Picked
(Heads Up, 2013) selections by guitarist Earl Klugh.
The Detroit-born Klugh taught himself to play and counts among his influences Bill Evans, Burt Bacharach and Chet Atkins. His career spans four decades and includes one Grammy Award with 12 nominations, and associations with Bob James, George Benson, Al Jarreau, Stevie Wonder, Miles Davis, Chick Corea, Hubert Laws and more.
For this project, Klugh plays acoustic guitar, solo on most tracks but with a few duets. The collection is a mix of cover songs and a few Klugh originals that were previously recorded with a band.
Bill Frisell joins Klugh for a duet on "Blue Moon." Their play is reminiscent of Old West cowboys playing on the range. Folksy, delightful yet still romantic. At 6:11, it's one of the longer pieces in the set and gives the duo room to stretch out, whereas most of the songs are the length of a typical radio single.
Even longer is Klugh's interpretation of the Eagles' "Hotel California," a duet with ukulele artist Jake Shimabukuro. The track opens with a hint of the original's climactic guitar solos before the ukulele takes lead on the verse with the guitar in background. After a few passes on the melody, Klugh takes point, playing freely while Shimabukuro carries the rhythm. Even when the lead deviates from what is known, there are enough phrases similar to the original that there's never any doubt as to what song this is.
One can almost hear the Beatles' vocal harmony as Klugh strums "If I Fell." He moves seamlessly from melody to background fills, at times giving the illusion of harmony.