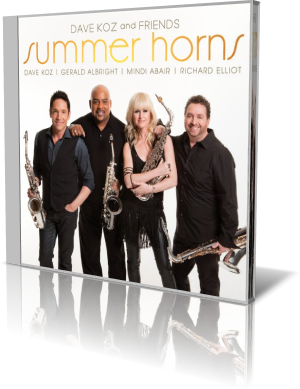 There's the instrumentalist, and there's the instrumental ensemble. Dave Koz and Friends, a saxophone quartet featuring Koz, Gerald Albright, Mindi Abair and Richard Elliot, present
Summer Horns
(Concord Music Group, 2013). The album is a fun-filled presentation of rock and soul hits interpreted for light jazz.
Koz plays the entire saxophone family as well as flute. Abair plays alto on all tracks. Elliott plays tenor on all tracks. And Albright splits time between tenor and alto. The foursome is accompanied by a variable lineup of rhythm players and other musicians.
"Always There" is a cool take on the Ronnie Laws classic. No credit is given for the bass line, which is a shame because it's one of the many strong points of this arrangement. The four saxes are joined by Greg Adams on flugelhorn and Lee Thornberg on flugelhorn and trombone. Paul Brown assists on rhythm guitar. Ricky Lawson, who handles drum duties for all but a few tracks, is barely noticeable here. Part of that is by design as the saxophone quartet carries the tune from start to finish.
The group takes two shots at Earth, Wind & Fire hits. The first, "Got to Get You Into My Life," swings like the jazzed-up cover EW&F did for the movie S
gt. Pepper's Lonely Hearts Club Band
. Koz leads on tenor sax. Filling out the big band sound are guitarists Jay Gore and Brown, Tracy Carter with Wurlitzer and Hammond B3 organ, Vally, Lawson, trumpeter Sean Billings and trombonist Nick Lane. Tough call, but this may be the best track in the set. The Tom Scott horn arrangement sizzles. Vally, Lawson and the other players are firmly engaged behind the saxes. The group also covers EW&F's "Reasons."
Robert Vally sits in with acoustic bass on "Take Five (In Memory of Dave Brubeck)." With Koz on soprano, the four saxes move in and out, blending in harmony or stepping back while one or another steps out front. The arrangement is pretty straightforward – a nice tribute to Brubeck.
Among the other songs are "Rise" (Herb Alpert), "25 or 6 to 4" (Chicago), "Hot Fun in the Summertime" (Sly & The Family Stone), "I Got You (I Feel Good)" (James Brown) and "You Haven't Done Nothin'" (Stevie Wonder) with mixed, but mostly positive results.
In assembling
Summer Horns
, eight-time Grammy nominee Koz recalled his fondness for the powerful rock and soul music of the 1960s and '70s that were fueled heavily by horn sections, including Tower of Power and Blood, Sweat and Tears.