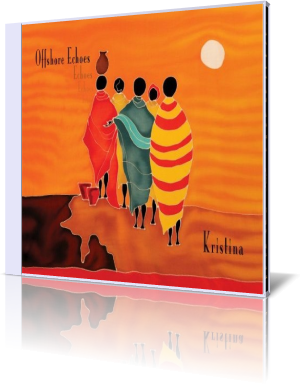 When covering non-jazz songs, most artists tend to do hit singles. San Francisco vocalist Kristina breaks tradition by putting her stamp on "Tea in the Sahara," an album track by The Police. With a cool bass line by Rich Girard and African percussion in the background, Kristina brings a multicultural approach to open her release, Offshore Echoes, on Patois Records. Her wordless chant during Frank Martin's piano solo adds an ethereal element. Drummer Deszon Claiborne contributes.

Kristina is joined by a lineup that's variable and versatile. In addition to the musicians mentioned, the cast includes producer/arranger Wayne Wallace, pianist Murray Low, bassist David Belove and many others. Offshore Echoes also revisits some jazz standards. A full horn section accompanies on "Cherokee," which is highlighted by Kristina's scat and a brief call and response between the horns and the percussionists.

One of the more engaging tracks is the Chick Corea song, "Open Your Eyes You Can Fly," previously sung by Flora Purim. Kristina, who says the words, "have the courage to be free," got her through college during a time of self-doubt, sings in a style similar to Purim's. The layers of lead vocal, background vocals and horns over the rhythm section give this song a tremendous amount of depth. Wallace performs a striking trombone solo.

Kristina's vocal style is her own, although one may hear influences of Purim, Ella Fitzgerald, Sarah Vaughan and Janis Siegel. Combined with the cast of musicians and Wallace's arrangements, she makes Offshore Echoes one solid musical outing.