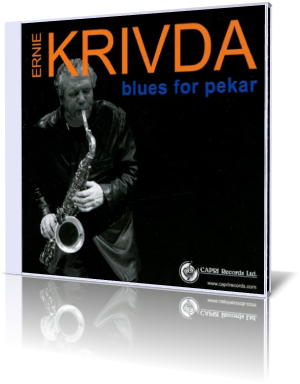 Throughout much of the United States, tobacco is demonized. Many municipalities have outlawed smoking in public places and even restaurants. And some states have sued the tobacco industry, using the proceeds to cover medical costs associated with smoking, or to pay for anti-tobacco public relations campaigns.

However, tobacco has inadvertently contributed to a fine jazz album by tenor sax legend Ernie Krivda. A tax on tobacco in Cuyahoga County, Ohio, supports the arts. That led to a $20,000 grant that sparked Krivda's CD and DVD project, which pays tribute to the late American Splendor author, Harvey Pekar. Blues for Pekar (Capri Records, 2011) is a set of seven Krivda arrangements of be-bop tunes, all done in full-length concert format, but without a live audience.

Krivda is accompanied on all tracks by The Detroit Connection: Claude Black on piano, Marion Hayden on bass and Renell Gonsalves on drums. Guest musicians are Sean Jones, trumpet, and Dominick Farinacci, trumpet and flugelhorn.

The set begins brilliantly with "The End of a Love Affair," a hard-charging, free-spirited song. Krivda and Farinacci share much of the lead to set the mood. Then Krivda takes the tenor on a bouncy jaunt that's worthy of some of the best tenor players of all time. After Farinacci's solo, the two horns engage in a delightful sequence of overlapping phrases. They alternate taking the lead during this segment.

The odd-numbered tracks feature one of the trumpet players. In each case, there's an engaging dialogue between Krivda and the guest. The set ends with two Krivda originals: "One for Willie" is a tribute to Cleveland native and international jazz giant Willie Smith; and the title song.

Pekar called Krivda one of the greatest jazz tenor saxophonists in the world, saying that nobody knew this because Krivda chose to live in Cleveland. It is fitting that such a project is created through an arts grant. The grant not only helps Krivda advance his career but also, through the production of Blues for Pekar, an economic opportunity, as it provided work for musicians, recording studio staff, videographers, a visual artist and a PR and marketing firm.