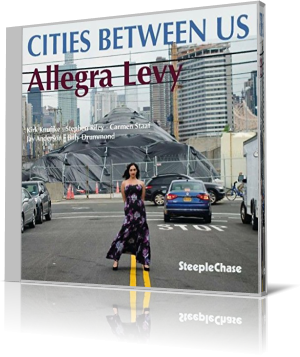 It took a few years, but it's well worth the wait. Upstart jazz vocalist Allegra Levy releases her second album, Cities Between Us (Steeple Chase Productions, 2017).

Supporting musicians are Kirk Knuffke, cornet; Stephen Riley, tenor saxophone; Carmen Staaf, piano; Jay Anderson, bass; and Billy Drummond, drums.

Levy's acclaimed Lonely City (2014) has been billed as the darker side of Allegra. By comparison, the new release would be the lighter side. In reality, it's a more human side. Whereas the debut album presented songs about "serious" topics, Cities Between Us delves more into emotions as they relate to personal relationships and memories.

The 11-song set is a collection of Levy's takes on romance and personal growth. She composed seven tracks and adapted standards by Duke Jordan and Dexter Gordon. Key tracks are "Cherry Blossom Song," "I Shouldn't Tell You," "Yesterdays," "Soy Califa" and the title track.

Levy skillfully moves from lyrics to scat, presenting a blend of the stylings of artists like Tierney Sutton and Ella Fitzgerald. Meanwhile, the musicians are tight, whether in background being Levy or stretching out on solos or duets.

One reason for the delay in this release is that Levy accepted what was to be a three-month gig in Hong Kong, which turned into year-long stay. That experience, combined with her recognition of the distance between New York and Los Angeles, separating her from friends, inspired the title: Cities Between Us. The interior booklet has lyrics to all tracks, and a write-up by Neil Tasser, documenting the period between Lonely City and now, with notes about each song.

Levy was 27 years old at the time of this release.