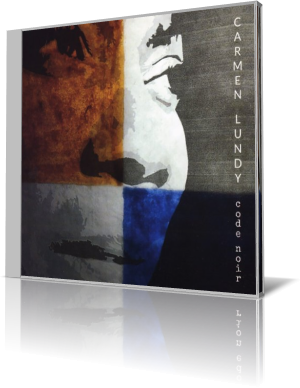 Multimedia artist Carmen Lundy charms and pleases with her latest offering, Code Noir (Afrasia Productions, 2017).

Lundy sings, plays piano, keyboards, acoustic guitar, and handles string programming and background vocals. Performing with her are Patrice Rushen, piano; Ben Williams, acoustic bass and electric bass; Kendrick Scott, drums and percussion; Jeff Parker, electric guitar; and Elisabeth Oei, background vocals on "The Island, The Sea, and You."

"Black and Blues" is a statement against police brutality and the systemic protections of officers who kill without justification. The music has an angry quality to it, from Rushen's piano chords to Scott's work on the kit. "Killed another brother from – another mother," Lundy sings.

"Afterglow" is a lively, romantic piece that shows Lundy at her jazziest. Her phrasing, shifting from loud to soft, one can hear hints of Ella Fitzgerald and Sarah Vaughan.

Code Noir gets its name from the first national law to make illegal the integration of Africans into white, European society. The law was signed by the king of France, Louis XIV. Lundy says the album partly reflects that African diaspora and its influence on genres, bossa nova, jazz, blues, swing, funk and avant-garde. "Yet they also encompass the many emotions that are prevalent in this country right now," she says. "We are going through tough times with a country that is sorely divided, and many of these tracks reflect the feelings that we as human beings are going through on an individual level.

Among the songs that reflect the latter are "Another Chance," "Live Out Loud" and "Whatever It Takes."

The musicians are rock solid throughout the set. They complement one another perfectly, whether playing as a unit or stepping out on a solo. But this offering is mostly about the beauty of Lundy's songwriting and the inspirations to live, to love and to stand up for doing what's right that are present in her lyrics.

Lundy composed 10 original songs for this work, and co-wrote "Another Chance" with Julie Raynor. She began her career in Miami, Florida, at a time when there were few young, gifted and aspiring jazz vocalists on the horizon. Over four decades, she has firmly established herself as one of the genre's more prominent figures. Good Morning Kiss, her debut album, held the Number 3 spot on Billboard's jazz charts for 23 weeks. In April 2016, she was honored with the Lifetime Achievement in Jazz award by Black Women in Jazz and the Arts, based in Atlanta. And the Miami-Dade County Office of the Mayor and Board of County Commissioners proclaimed January 25th "Carmen Lundy Day," along with handing her the key to the city of Miami.

Lundy's stage and studio associations include Ray Barretto, Kenny Barron, Bruce Hornsby, Mulgrew Miller, Terri Lyne Carrington, Courtney Pine, Roy Hargrove, Ron Carter, Marian McPartland, Regina Carter, Geri Allen and many more.

Code Noir is her 15th album.