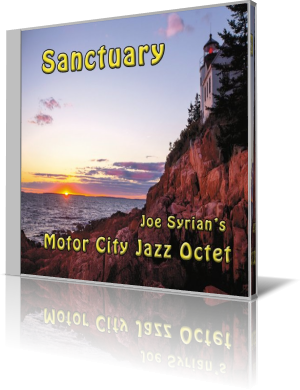 Drummer and band leader Joe Syrian brings together one of multiple lineups of the Motor City Jazz Octet to present Sanctuary (2016), a short set of six arrangements of jazz classics and pop hits.

The octet is made up eight members at any one time, but the band is a larger collection of Detroit-area musicians who vary from one performance to the next. Press materials show the entire group has 28 players. However, the liner only lists the following for this recording: Steve Wood, tenor sax and flute; Jimmy Smith, trumpet; Mike Rumbell, trombone; Mark Berger, baritone and alto saxophones; Gary Schunk, keyboard; Steve Carryer, guitar; Don Lewandowski, bass; Andrew Lloyd, bass; and Joe Syrian, drums. George Benson and Rick Margitza are listed as guests.

The set begins with a cool, '70s fusion take on the Beatles' "Come Together." Syrian's high hat work is a constant, as well as the bass line. The horns control the theme, with one trumpet taking lead briefly. A haunting guitar solo is followed by a free-spirited bass interlude. After a bridge the signals a reset, they split for overlapping phrases, with the baritone sax out front, before reverting to the melody.

The octet delivers a low-speed rendition of Stevie Wonder's "Sir Duke." After a straightforward, no-frills pass on verse and chorus, the tenor sax takes off an a delightful jaunt, with the other horns providing support.

The Motor City Jazz Octet specializes in several forms of the genre, including Dixieland, jazz-rock, swing, blues, be-bop, Latin, smooth jazz and others. The individuals represent such institutions as the Fox Theater Orchestra, the Fisher Theater, symphonies of the Detroit area, Motown performers and professors at major universities.