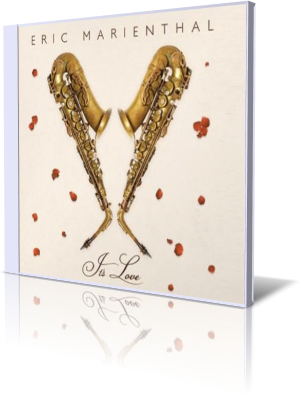 St. Valentine's Day of 2012 has come and gone, but the romantic sounds of Eric Marienthal live on. The saxophonist who has been a part of the Chick Corea Elektric Band and The Rippingtons gets in the mood with It's Love (Peak, 2012).

The set opens with a tranquil take on the Brenda Russell classic, "Get Here" and "In a Sentimental Mood."

The Beatles' "Can't Buy Me Love" has the potential to be decidedly sappy when interpreted by a smooth jazz artist. However, this arrangement is far from sappy. Arranged by Chuck and Lizzy Loeb, this piano bar jazz take features Chuck on guitars and keyboard, with contributions by Russell Ferrante on piano, Gary Novak on drums, Tim Lefevre on bass and David Charles on percussion.
Marienthal does a virtual tour de force, playing soprano sax, flute and clarinet. The rhythm hints at a bit of samba. The background instruments are subtle but very effective. Marienthal, Loeb and Ferrante each get a moment out front, but this is a solid group effort, and perhaps the most creative take on this Lennon and McCartney classic that these ears have ever heard. And as if the rest of the song isn't remarkable enough, Marienthal's soprano ad lib on the fade is nothing less than superb.

Loeb also composed "Two in One," an easygoing groove. Jeff Lorber assists on keys, and Jimmy Haslip takes over bass duties. Marienthal plays the alto sax on this one. The song has a sunny, sailing along the coast vibe.

After the three covers to open the set, It's Love is filled with original material written by Loeb or some combination of Marienthal with other members of the session. Also appearing on this outing are trumpeter Till Bronner, organist Pat Bainchi and keyboardist Brian Culbertson.

Often when the word "love" is mentioned in regard to music, ballads come to mind. Not that there's anything wrong with a ballad, but a collection of them by an instrumental artist can be trite, focusing too much on the romantic side and neglecting the need to be fresh and energetic. It's Love doesn't suffer that fate. Apart from the stylish contributions of the guest musicians, Marienthal and producer Loeb put plenty of passion and creative energy toward this project. To borrow a line from Robert Palmer, it's anything but typical.