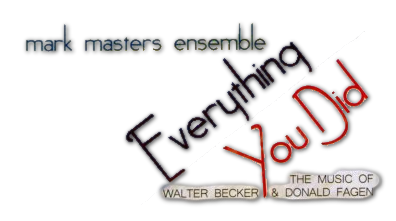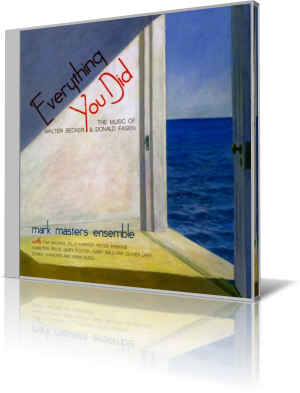 "Where did the bastard run / is he still around?" Donald Fagen asks in the opening verse of Steely Dan's "Everything You Did," a track from The Royal Scam (1976). Interestingly, that song is not included in the Steely Dan-inspired Everything You Did (The Music of Walter Becker & Donald Fagen) (Capri Records, 2013) by the Mark Masters Ensemble.

Masters, president of the American Jazz Institute which presents this project, handled all the arrangements. Featured musicians are Billy Harper, tenor saxophone; Tim Hagans, trumpet; Anna Mjoll, voice; Hamilton Price, bass; and Peter Erskine, drums. The ensemble consists of Louis Fasman and Les Lovitt, trumpet; Stephanie O'Keefe, French horn; Les Benedict, Dave Ryan and Ryan Dragon, trombone; Don Shelton, alto and soprano saxophones and alto flute; John Mitchell, tenor saxophone and bassoon; Gene Cipriano, tenor saxophone and English horn; Gary Smulyan, baritone saxophone; Brian Williams, bass clarinet; and Brad Dutz, vibes and percussion.

Mjoll offers a haunting chant to begin "Charlie Freak" (Pretzel Logic, 1974). The story of a homeless man who sold his one valuable possession, a ring, for cash to buy liquor takes on a new meaning with this bluesy rendition. Harper's tenor takes lead. When the full band gets engaged, the music has a vibe akin to variations of the "Pink Panther Theme" used in the animated cartoon. However, the song shifts to a more somber, melancholy mood, anchored by the chant.

Mjoll's whispery voice leads the cool, laid-back "Black Cow" (Aja, 1977). The horns and vibes take on the roll of background vocalists during the chorus. Smulyan's baritone accents the closing sequence, which is highlighted by Mjoll's bouncing scat.

The band plays a slow, swinging instrumental take on "Chain Lightning" (Katy Lied (1975). Shelton, Dragon, Lake, Smulyan and Price are featured. The bass does a cool walk, accompanied only by subtle drum and cymbals play by Erskine. At nearly 11 and a half minutes, this selection not only gives the soloists room to stretch out but also the entire band gets to relax and let the music flow.

Steely Dan was a forward-thinking rock band that played their songs like jazz musicians. In fact, many of their songs are jazz, and most that are not jazz are easily translated into jazz. Masters and Capri Records president Tom Burns discussed a project such as this many times over the course of 35 years. Finally, after three years of planning and raising the money, it's here.

Other Steely Dan songs presented here are "Show Biz Kids," "Bodhisattva," "Do It Again," "Josie," "Fire in the Hole," "Kings" and "Aja."

Over the last 20 years, Masters has released seven recordings on Capri Records, arranging music of great composers, including Gershwin. His 2012 release, Ellington Saxophone Encounters, showcased compositions that featured saxophone masters who performed with Duke Ellington's band.

While Everything You Did does not include the Steely Dan song of the same name, it is Masters' tribute to everything that Steely Dan was about, covering not just the singles that came when The Dan's popularity peaked but some of the lesser-known album tracks that only hard-core Steely Dan fans know. And to make those songs jazzier than Becker and Fagen did in their day says a lot.