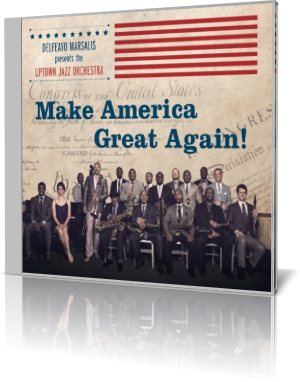 It may sound like a slogan uttered by a person who may the most unpopular person ever elected to the United States of America's highest office, and echoed by hordes of angry people, longing for vision of the nation that faded with progress. But a member of the First Family of jazz uses the phrase to deliver a positive social and political message. Make America Great Again! (Troubador Jass Records, 2016), by Delfeayo Marsalis and the Uptown Jazz Orchestra, presents that message with wonderful music.

Marsalis plays trombone. The orchestra consists of Khari Allen Lee, alto and soprano sax; Jeronne Ansari, alto sax; Roderick Paulin, tenor and alto sax; Gregory Agid, clarinet and tenor sax; Scott Johnson, tenor and baritone sax; Roger Lewis, baritone sax; Terrance Taplin, Charles Williams, Jeffery Miller, T.J. Norris and Maurice Trosclair, trombones; Andrew Baham, Scott Frock, Dr. Brice Miller, John Gray and Jamelle Williams, trumpets; Kyle Roussell and Meghan Swartz, pianos; David Pulphus, bass; Herlin Riley and Peter Varnado, drums; and Joseph Dyson Jr., drums and percussion. Special guests appearing on selected tracks are Dee-1, rap; Cynthia Liggins Thomas, vocal; actor Wendell Pierce, narration of the title song; and brother Branford Marsalis, tenor sax. The Uptown Music Theatre Choir, which appears on two tracks with lyrics, consists of Cynthia Liggins Thomas, Tara Alexander, Ebon George, Jazmine Piper Marsalis, Kiya Henderson, Justice Smith, Celeste Metoyer and Hillary Vaucresson. Additional players sitting in are Victor Goines, tenor sax; Oliver Bonie, baritone sax; John Culbreth, trumpet; and Jeff Albert, bass trombone.

The set opens with a saxophone-led rendition of "Star Spangled Banner," sans percussion. After two horn-driven instrumentals, the Uptown Music Theatre Choir and Dee-1 join for "Back to Africa." The voices and horns blend seamlessly in chanting the song's title. The first verse lyrics are a snapshot of the attitudes expressed by many who, decades after the end of state-sponsored segregation, would love to see brown-skinned people leave the United States. "Go back where you came from," begins one line. Dee-1 responds, rapping that Africa isn't just a place, but a state of mind, and many positive things about humanity. Musical highlights include the dueling saxophones during part of the instrumental break and the emphatic percussion of Alexey Marti.

Pierce poetically recites the analysis of the phrase, "Make America Great Again!" The music underneath is sassy, and at times whimsical. "Now there will always be those who long for 'the good old days,' either because we weren't there or we've simply forgotten what those days were actually like," Pierce says. The recital is briefly interrupted first by Baham. Later, Lee gets an opportunity to stretch out. The narrative touches on economics, opportunity, freedom and the future.

Another vocal track is a tribute to Nelson Mandela, the South African, anti-apartheid activist who was jailed for many years and became president after his release.

Musically, Make America Great Again! borrows from the sounds of Africa and New Orleans, as well as some straightforward, big band jazz. Despite its political angle, the collection is uplifting and, for the most part, dancer friendly.

The package includes photos of Marsalis and the orchestra, with lyrics inside the gatefold. The booklet lists the featured players and vocalists for each song and has bios on all the musicians.


www.dmarsalis.com