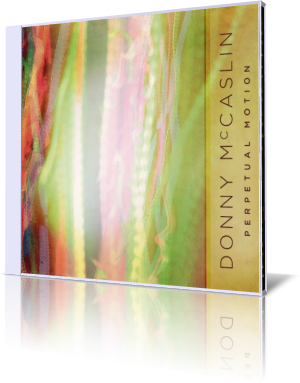 One thing that makes a performance interesting is when the performers keep things movig. That seems to be the inspiration for Donny McCaslin's Perpetual Motion(Greenleaf Records). The tenor saxophonist and bandleader comes at different speeds in this set of all-original music.

Electric bassist Tim Lefebvre accompanies on all tracks. Drum and keyboard duties are split. Adam Benjamin gets the bulk of the work on Fender Rhodes and piano, with Uri Caine contributing to three songs. Antonio Sanchez has drum duty for the first five songs, with Mark Guiliana taking over the last five. Alto saxophonist David Binney joins for one song and contributes electronic sound effects elsewhere.

The title song starts as an easygoing, Sunday drive kind of piece. It quickly turns into a frantic, free-form display by McCaslin. Lefebvre and Sanchez seem to be on divergent but compatible paths – each headed toward his own destination but well within sight of each other. McCaslin plays the extremes of the tenor's range for emphasis, but also spends plenty of time in the middle. Benjamin steps in on the Fender Rhodes, giving the middle passage a spacey feel.

"Memphis Redux" is a cool, leisure-driven groove. McCaslin plays like an old-school soul singer, expressing freely. During the middle break, the band keeps it moderate and tight. One can almost hear Herbie Hancock sneaking in during the first part of Benjamin's solo. While the pace of the song remains steady, Sanchez goes warp speed on the cymbals – appropriate, considering Binney's electronics on the fade.

McCaslin is a DownBeat Rising Star poll winner, Grammy-nominated soloist for the Maria Schneider Orchestra and sideman for other artists. He composed most of the songs for Perpetual Motion, but some of his sidemen wrote or co-wrote a few.