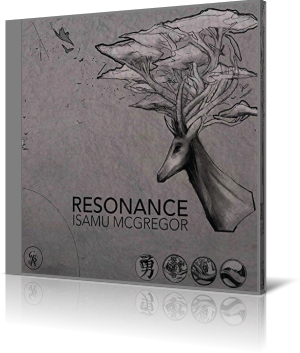 For something a little different, give a listen to pianist Isamu McGregor's Resonance (Ghost Note Records, 2017). The music moves from breathtaking to symphonic to placid to hard-charging.

The players are Evan Marlen, bass; Gene Coye, drums; Bennie Maupin, bass clarinet on "The Drifter"; Seamus Blake, tenor sax on "Relentless"; and Dean Anbar, guitar on "Thor vs. James Brown."

"Relentless" begins softly as if a sun slowly rising. Blake opens, with McGregor slowly building until the music warms up and the others join in. Coye injects some broken-time strikes. For the opening and much of the melody, the piano remains rooted in a static beat, changing up every so often. The music rises and softens, suggesting it may be over. But as the name suggests, the respite is temporary. On the next pass, things become intense with Blake out front, the leader doing his thing and Coye augmenting it all.

Under the heading of "Most interesting titles," McGregor gives us "Thor vs. James Brown." This is a cool, somewhat funky groove, which features Marlen. His rapid-fire stream of notes is reminiscent of one Jaco Pastorius. The second half of the track begins with a change in pace and intensity, Anbar taking lead and going on an electric jaunt worthy of Steve Lukather. One more gear shift, and the piece goes full space flight. Think Chick Corea Elektric Band, Weather Report and Deodato rolled into one.

McGregor was born in 1989 in Los Angeles. He began taking classical piano lessons at age 5. A gift from his father, a jazz CD by Greg Mathieson, set McGregor on a new path. Like many of the uninitiated, he wrongly believed jazz was all one thing or another: straight ahead or old school. But the set that included Abraham Laboriel, Michael Landau and Vinnie Colaiuta convinced McGregor the genre can be many things.

After jazz studies at New York University, McGregor established himself as a player and composer, having toured the world and spent some time on Caribbean Cruise Lines.