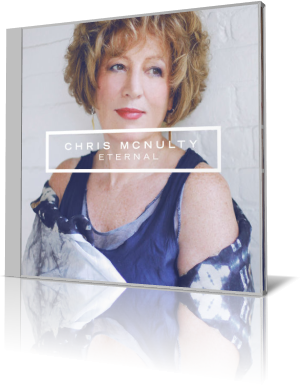 The love a mother has for her son is the driving force behind Chris McNulty's Eternal (Palmetto Records, 2015). Combining her charming voice with a chamber ensemble and a jazz trio, she honors Sam McNulty, who died in 2011.

Sam was a hip-hop artist and composer, whose artist name is Chap One.

The core trio is comprised of John DiMartino, piano; Ugonna Okegwo, bass; and Gregory Hutchinson, drums. Paul Bollenback, guitar; and Matthew Jodrell, flugelhorn, also contribute. Steve Newcomb provides orchestration, arrangements and conducts the chamber ensemble. The chamber players are Mazz Swift, Josh Henderson and Amanda Lo, violins; Trevor New, viola; Meaghan Burke and Marika Hughes, cello; Jodie Rottle, flute and alto flute; Ivan Barenboim, clarinet and bass clarinet; John Morgan-Bush, French horn; and Ben Wendel, bassoon.

A somber ballad, "The Saga of Harrison Crabfeathers," begins the set. "Late this night, she waits alone / she tries to accept the truth." This opening line is deeply personal for McNulty. That connection comes through in her beautiful delivery. The music begins softly, slowly, and establishes early a sense of loss. The pace picks up during the instrumental break, with all the instruments making their mark. Bollenback stands out during his solo, but several other players are distinct as well. McNulty scats briefly before the song reverts to the slower, softer melody.

"Where Is Love" has a hint of bossa nova. The chamber ensemble and jazz musicians blend well, accompanying McNulty's soothing voice. The strings give it a special touch. DiMartino's solo enhances the elegance.

McNulty says she never sings a song unless she can connect with it personally. That connection is stronger as the process of seeking material came when Hurricane Sandy struck, leaving McNulty without electricity, heat or running water for eight days. She sat in front of the fireplace with dozens of songbooks, searching for lyrics or melodies that spoke to her, by candlelight.

McNulty emerged on the international jazz scene in 1991. Her recordings and performances have earned 4-star and 5-star reviews in publications such as DownBeat, Jazz Journal and Jazz Times. A native of Australia, she won the prestigious Australian Bell Award for Best Vocal Jazz Album for The Song that Sings You Here.

Eternal is her seventh release.