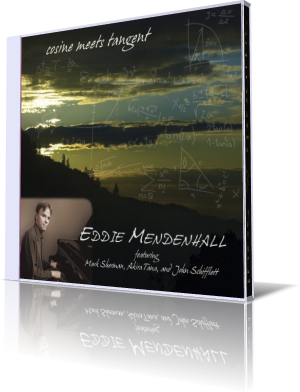 The typical attitude among young students is that school wastes a lot of time teaching things they have no use for in life – like trigonometry. Eddie Mendenhall sees things differently, adopting a mathematical term as the title to his debut release: Cosine Meets Tangent (Miles High Records, 2011). The cover is a composite of a photograph of Mendenhall at a piano, a hillside and partly cloudy sky in the background, accented by math formulas.

Mendenhall directs the jazz department at the Monterey Peninsula College, and is an instructor at the Monterey Jazz Festival Summer Jazz Camp. His quartet includes vibraphonist Mark Sherman, bassist John Schifflett and drummer Akira Tana.

"Protocol" sets things off in lively fashion. Sherman carries much of the lead, at times melding with Mendenhall. Though a new song, the mood is like something out of a Lionel Hampton playbook. Sherman takes off and doesn't look over his shoulder.

"Blues for Yokohama" is another piece done in the same style, though with a bit more flair. Mendenhall is more prominent than on the earlier piece. Drums and bass are also more involved, with the former going it alone for a stretch.

Mendenhall composed all but two tracks, "The Great Triplet" by Sherman, and "So Easy to Remember" by Richard Rogers and Lorenz Hart. The set makes Cosine Meets Tangent a fine piece that offers good listening and may make you want to get up and dance.