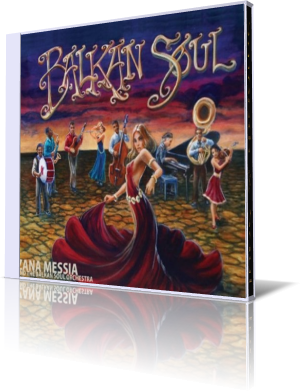 What happens when you take one of the leading names in jazz percussion, and mate it with the heart and soul of an artist who finds beauty amid war and strife? You get Zana Messia and The Balkan Soul Orchestra.
Messia, a native of the former Yugoslavia – in that mountainous region of Eastern Europe known as the Balkans – and now a resident of Los Angeles, has teamed up with Harvey Mason, a founding member of Fourplay who has also fronted his own band as well as sitting in session for numerous other artists. The result is Balkan Soul (2012), a fascinating, cross-genre set of mostly original music.
Mason executive produced this album and appears on most of the 10 tracks, playing drums, percussion, marimba and vibes. The rest of the orchestra is a variable mix of assorted instruments, with each song having a different combination.
The strength of Balkan Soul lies largely in the match of Messia's voice and strong lyrics. "This Is How I Get" is a ballad of sorts. The singer is a woman who desires intimacy with the man she's speaking to, but is nervous because she doesn't know how he'll treat her. "It's so destructive, having to hold back / when all I want is to give into this." The music is like a slow march, played in the tradition of Balkan music, but sang with the verve of modern blues or soul. Dan Weinstein plays multiple instruments, including tuba and violin. The piece picks up briefly for a frantic, instrumental break, then abruptly shifts to the somber melody.

"Palm Tree Leaves" injects a tropical flavor. Messia's voice is whispery, ethereal, sweet. James Brandon Lewis contributes a moving tenor sax solo, and Ben Shepherd's bass line anchors the song, aided by the percussive efforts of Mason and Danny Frankel. Messia goes sultry on "I've Seen Him Before." David Marcus steps in with electric guitar on this straight jazz selection. Messia and the orchestra put a Balkan spin on the Thelonious Monk classic, "Round Midnight."

Messia has a way of making unrequited love or even being used in a relationship seem joyful and romantic. She wrote or co-wrote all eight original songs in this set. Throughout, she weaves jazz and traditional music from her homeland, finding them a natural marriage because of the emotions that influenced their respective creations.