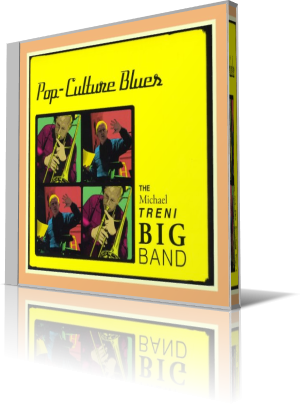 Pop-Culture Blues
(2013) by the Michael Treni Big Band is almost self-explanatory. It's a suite of 10 original songs that meld several styles of music, particularly big band jazz and the blues.
Composer, arranger and trombonist Michael Treni fronts an ensemble that features a combination of 20 other musicians, some of them appearing on only a few tracks.
The players are: Bill Ash, trumpet and flugelhorn; Jerry Bergonzi, soprano and tenor saxophones; Charles Blenzig, piano; Vinnie Cutro, trumpet; Rick Dekovessey, percussion; Nathan Ecklund, lead trumpet; Frank Elmo, tenor saxophone, alto flute and clarinet; Bob Ferrel, trombone and buccin trombone; Freddie Hendrix, trumpet and flugelhorn; Ken Hitchcock, tenor saxophone, alto flute and clarinet; Philip Jones, bass trombone and tuba; Joe Labelle, guitar; Roy Nicolosi, baritone saxophone, bass clarinet and clarinet; Takashi Otsuka, bass; Chris Persad, trumpet; Joe Petrizzo, lead trombone; Jim Ridl, piano; Sal Spicola, lead alto saxophone and flute; Ron Vincent, drums; and Craig Yaremko, alto saxophone, flute and alto flute.
"Song for Duke" starts things off. The saxophones carry the melody with the other horns providing fills. The easygoing groove set by Vincent and Otsuka. Ridl, Bergonzi and Vincent get their moments in the spotlight.
"Bluesy Bossa" evokes images of a beachfront dance club in Brazil. Inspired by the music of Lee Morgan ("Sidewinder") and other Blue Note artists from the 1960s, the lead is provided by flute, alto flute and two clarinets. Soloists are Yaremko, Treni and Cutro.
The title song ends the set. This bright, up-tempo piece is a perfect, end-of-show song. The soloists are Hitchcock, Cutro, Blenzig and Vincent.