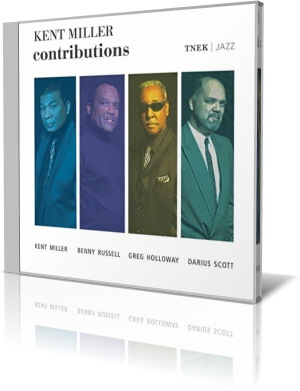 Bassist Kent Miller delivers an engaging collection of songs with Contributions (TNEK Jazz, 2016). The title refers to the contributions of the musicians on the recording, as well as songwriters whose compositions are included in the set.

Performing with Miller are Benny Russell, tenor sax; Darius Scott, piano, and Greg Holloway, drums and percussion.

"West End Carnival" is a lively opener. Like something off the streets of Rio, this energetic celebration puts Russell out front. Miller's bass line and Holloway's play are constants. It's a festive, cast-your-worries-aside song.

Things soften for Scott's "Peri'gee." This mellow ballad features some quiet play by Russell with subtle support from the others. The title is a word that describes an element of orbit, such as the moon around Earth. Many a songwriter has referred to the moon when penning songs of love.

Other highlights include Miller's "A DC Waltz" and "One for Two Blues," and Russell's "Reminiscence."

Miller was born in 1956 in St. Louis, Missouri. His parents' appreciation for all kinds of music was his starting point. He took piano lessons at age 8. He later began studying guitar. At 12, Miller watched a television program that featured Ray Brown as a soloist performing with a big band. That led to Miller's enthusiasm for the contrabass. Studies included the St. Louis Conservatory of Music and private bass lessons.

Contributions is aptly named as the music focuses on the sidemen more than the leader, and five of the nine songs are a mix of covers and compositions by band members.