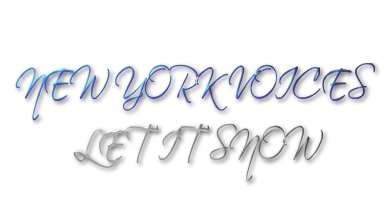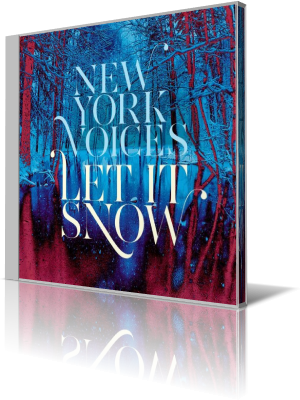 Frosted trees and a pond in the forest grace the cover of New York Voices' Let It Snow (Five Center Records, 2013), Christmas music presented in 13 tracks, including two medleys.

The Voices are Kim Nazarian, Lauren Kinhan, Darmon Meader and Peter Eldridge. In addition to handling arrangement, vocal arrangement or orchestration for most tracks, Meader also plays saxophone or flute on several.

Pianist Andy Ezrin is present on all tracks. Bass duties are split between Paul Nowinski and David Finck, with Marcello Pellitteri and Ben Wittman sharing the drumming. Guitarist Bob Mann assists on three tracks. A six-piece, big band horn section contributes to four songs. A 31-piece orchestra appears on five tracks.

The title song begins with flare from the trumpets. The quartet dives in with an energetic harmony for the chorus. The gears shift down for the verse then picks up again for the next chorus. The scat is a very cool thing in jazz – even cooler when you have four voices in total synch for a few phrases. That's followed by two individual scats and Meador's tenor sax solo. Throughout, the band keeps going strong.

"We Three Kings" has the feel of a Middle Eastern waltz. The rhythm section and studio orchestra provide accompaniment. The strings give the piece an extra element of beauty and elegance. About two minutes in, the mood builds with the voices blending, overlapping – leading to a brief, a cappella sequence before the orchestra rejoins. The sweeping movement makes Pat Hollenbeck's arrangement one of the more creative interpretations.

One song that we don't hear a lot on holiday albums is "Sleepers, Wake!" The quartet beings the song with only strings playing softly underneath. The Voices sound like a small, chamber orchestra with wordless vocals before getting into the lyrics. Meador arranged and orchestrated this piece. As it's often played as an instrumental, the Voices are their own orchestra, covering flute, middle strings and bass during the wordless parts.

The Voices revisit "I Wonder As I Wander," a song previously recorded for A GRP Christmas, Vol. 2. In addition to singing, Meador plays alto and tenor saxes, as well as flute. Additional horns are Roger Rosenberg, baritone sax and bass clarinet; Frank Greene and Matt Holman, trumpets; Randy Andos and Mike Davis, trombones. Though the arrangement is different, the approach to the vocal is similar to GRP arrangement, particularly the emphatic key change after the middle break.

New York Voices began adding Christmas tunes to their December concerts many years ago. "At first, it was just a handful, but over the years, our holiday repertoire expanded," Meader says. "In 2005, we were invited to tour with the Boston Pops for a full Christmas season. This is when our book really took off, and we've been planning to record this CD ever since."

The group has released nine albums on various labels, including GRP, MCG Jazz, Concord and Palmetto. The Voices have starred on two Grammy award-winning albums, Count Basie Ocrhestra with New York Voices, Live at MCG and Brazilian Dreams, featuring Paquito D'Rivera, New York Voices and Claudio Roditi. In addition to their college and high school workshops, the group holds jazz camps at Bowling Green State University every August.