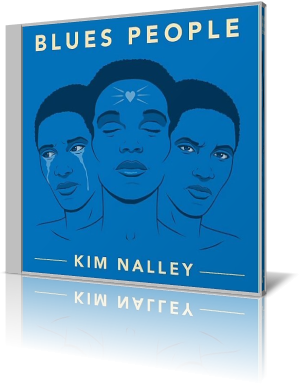 History, contemporary times, hard times and good times mix and mingle with Kim Nalley's Blues People (2015).

The band consists of Nalley, vocals; Tammy Hall, piano and organ; Greg Skaff, guitar; Michael Zisman, bass; Kent Bryson, drums; and Bryan Dyer, background vocals.

Blues People is inspired by Amiri Baraka's book, Blues People: Negro Music in White America. According to the liner notes, Baraka argues in the book that African Americans were fundamentally a blues people. In short, the blues were a way of life, a culture, that encompasses the totality of black Americans' historical and day-to-day existence.

Nalley opens the set with a brooding, bluesy rendition of "Summertime." Voice and piano go it alone at first, with Nalley stretching the lines, using the time to emote and show the power and range of her voice. As she does on other tracks, she uses a mix of sighs, groans, moans and wails to get the message across.

With the full band, Nalley covers the theme from the television series, The Jeffersons. "Movin' on Up" begins slowly with a strong, gospel vibe. During the verse, the pace and tempo change, becoming a blues club call and response between voice and instruments. Midway through the nearly seven-minute piece, Nalley steps aside. Hall's solo is part church piano, part bluesy jazz. Nalley returns with a repeat of the call and response verse, setting up the dramatic finish.
Nalley taps into recent events with two original songs.

"Big Hooded Black Man," is a lyrical expose of the racial politics that followed the 2012 killing of black teenager Trayvon Martin by George Zimmerman who, although some have said he's Hispanic, exhibited the tendencies and attitude of a privileged white man both during that case and in his behavior since. The song captures the history, the demonization and criminalization of African-American males. It's a culture that says black boys aren't to be treated like children but as grown men, and grown black men – particularly those wearing hooded jackets – are presumed to be dangerous criminals both by the police who respond to calls and the callers.

"Ferguson Blues" is Nalley's testimony to the events following the 2014 shooting of another black teenager, Michael Brown, by a white police officer under questionable circumstances.

Nalley is on faculty at the California Jazz Conservatory. She is a Ph.D. candidate in the University of California at Berkeley's history department with plans to write her dissertation on the Globilization of Jazz and Black Cultural Politics. She was awarded Most Influential African American in the Bay Area in 2005 and Best Jazz Group in 2013. Nalley has been a featured writer for JazzWest and The San Francisco Chronicle, she is a produced playwright, a former jazz club owner and an accomplished stage actress.