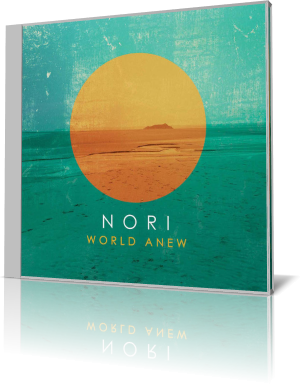 From central Texas comes the unique sound of Nori, presented on World Anew.

The band consists of Akina Adderley, vocals; Erik Telford, trumpet; Nick Litterski, Fender Rhodes; Aaron Allen, upright bass; and Andy Beaudoin, drums.

A cool bass groove sets the pace for "Just a Man." Adderley's vocal is accompanied by a parade march beat. After an intense passage where voice and trumpet counter each other's moves, Allen sets up the spirited solo by Telford. The climax is highlighted by Adderley's emphatic crooning, aided by the trumpet and keyboard ad libs.

An African toms beat sets the mood for "Arirang." It's a lively, up-tempo song that seems perfect for a jaunt across the Serengeti.

Nori is described as an innovative project featuring a diverse collection of musicians from the Austin, Texas, area. Their music crosses several genres, including world music, jazz and folk music.
Adderley's alto flute voice reminds of Tierney Sutton or Kristina Plott Smith, though her style is different. The musicians are solid as a unit, and the soloists make good use of their moments.