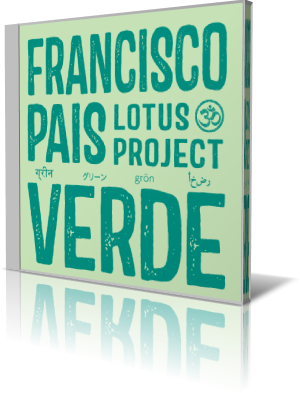 The band is new, but the relationships have a history. And that history makes a recording like Verde (Product of Imagination, 2016) by Francisco Pais possible.

The musicians are Pais, voice and guitar; Myron Walden, tenor sax; Godwin Louis, alto sax; Julian Shore, piano; Connor Schultze, bass; and Fereno Nemeth, drums. Guest vocalists Genetta Kha and Jacklyn Chan appear on "Million Galaxies." They have performed together in one configuration or another for about 10 years.

"The Painter" is an upbeat, gear-shifting song. Guitar and sax are in unison for the main theme. The tempo is constant, but the leads adjust their rate of notes per beat as the song progresses. Shore, Shultze and Nemeth stay quite busy behind the leads, especially Nemeth. Louis and Walden carry the middle passage in turns, each making his instrument sing, grind and wail for emphasis.

"Devotion" begins as a placid, solo guitar effort. Pais is one with his instrument, playing a descending series of phrases. When he reaches bottom, he climbs again and stays on the same level for a moment, a signal for the others to join in. >From there, it plays like an ambient jazz piece. The overall track has a haunting quality.

Pais also sings lead on three tracks.

Pais counts among his guitar heroes several blues and rock artists: Muddy Waters, Howlin' Wolf, Robert Johnson, Chuck Berry, Jimi Hendrix and Eric Clapton. The title, Verde is the Portuguese word for green. "I come from a small village in Portugal called Sintra, and there are thousands of shades of green over there," he says. "It's a magical stretch of mountains with castles and palaces that overlook the Atlantic Ocean."

After an audition in Paris in 1998, Pais was awarded a scholarship to study jazz performance at the Berklee College of Music. He graduated cum laude in 2002 with a bachelor of arts degree in Music Performance.

Pais composed all 14 tracks.