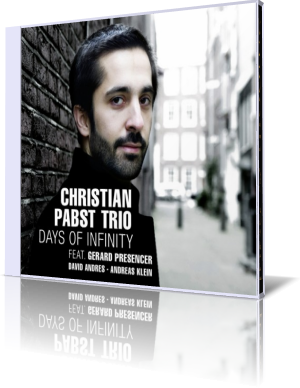 Ambient sound, a touch of tradition and a sense of time and place are the ingredients for the Christian Pabst Trio's Days of Infinity (Challenge Records, 2011).

The group consists of Pabst on piano and Rhodes, David Andres on bass and Andreas Klein on drums.
The set opens with the sweeping "Fly and Unfold," a placid song in 3/4 time. Ably supported by Andres and Klein, Pabst lets his fingers fly. However, as charming as it is, the piece doesn't completely satisfy. At less than two and a half minutes, it leaves something on the table.

That's not the case with "A Poet's Path." Gerard Presencer joins the trio on this and other tracks, playing trumpet and flugelhorn. Horn and Rhodes stretch out individually, and the foursome complement one another well. Presencer also takes point on the lively "Tales from the City." The upbeat mood conjures images of daytime traffic and nighttime fun.

All songs were composed by Pabst, except "Deja-Vu," which was penned by Andres.

Pabst was born in 1984 in Saarlouis, a German village near the French border. He began studying piano at age 7, and by the time he was 15, he was the pianist in a jazz big band. Since then, he has performed extensively throughout Europe, studied at the Conservatorium van Amsterdam in the Netherlands. He has also studied in the United States at the Berklee College of Music. He also teaches piano and harmony in workshops.