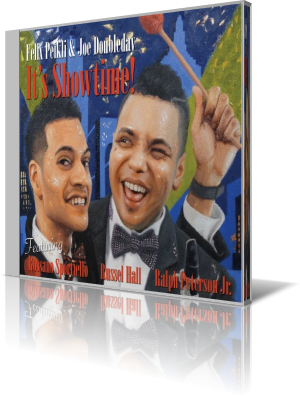 A duet backed by an adept rhythm section makes the past the present, and with vigor. Clarinetist Felix Peikli and vibist Joe Doubleday present It's Showtime! (2016).

They are accompanied by Rossano Sportiello, piano; Russell Hall, acoustic bass; and Ralph Peterson Jr., drums. Vocalist Charles Turner appears on the ballad, "La vie en Rose."

"After You've Gone" opens the set. It's a sunny, delightful take on the Turner Layton composition. Peikli leads the melody, with Doubleday offering a subtle undertone. Sportiello gets to stretch out a bit during one middle break. Then after the clarinet, the vibraphone takes a turn, rolling through an impressive, rapid fire interlude. Peikli and Doubleday then lead a sequence of unison riffs, accented with solos by Hall and Peterson. The musicians pack a lot into a piece that's just short of five minutes running time.

The ensemble takes a placid, slowed-down approach to begin "Pure Imagination," a piece featured in Willy Wonka and the Chocolate Factory. The arrangement shifts gears multiple times, upping the tempo on occasion to transition into a charming, couples dancing tune.

The Showtime Band, as the ensemble is called, covers mostly selections from the American culture of the 1930s. All arrangements are by the leaders.

While Peikli and Doubleday are the front men, the other musicians leave their marks throughout, whether in solos or performing solidly in the background.

Showtime consists of 10 songs and runs a total of about 40 minutes. That may seem short by today's standards, but it's what these brilliant musicians do in those 40 minutes that make the album special.