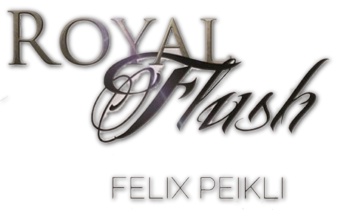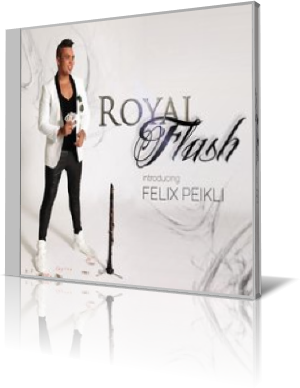 After Pete Fountain and Benny Goodman, you don't hear a lot about the clarinet in jazz. Sure, the instrument is there but mainly as an ensemble piece and for solos. Felix Peikli reminds us that this horn is also good as a lead instrument. Royal Flush (2014) presents fresh sounds that are creative and contemporary.

Piekli plays clarinet and bass clarinet. He's joined by Michael Bono, acoustic and electric guitar; Takeshi Ohbayashi, piano; Alexander L.J. Toth, acoustic bass; and Anthony A. Toth, drums. Other contributors are Kim Wigaard Johansen and Sara Lade, vocals; Sarpay Ozcagatay, flute; and Eric Kwong, sound design and effects.

"Heat" features guest trumpeter Lee Hoganes. Trumpet and clarinet pair up for a bit, but mostly it's Hoganes who leads the main body of this tune. After a transition followed by a piano interlude, Peikli comes in with verve. His play is worthy of Fountain and Goodman.

Renowned bassist Marcus Miller sits in on "Queen of Hearts." Peikli and Bono pair up for the melody with Miller providing the thumping beat and fills. The clarinet sings with vigor, complemented and contrasted by Miller's electric. The bassist has a reputation for having fast fingers, and he nails each note cleanly. Anthony Toth gets to show out a little on the kit.

After a haunting introduction that features the voices of Johansen and Lade, the title song closes the set. It starts with a low, brooding mood set by the piano. Bono's electric takes point, at times joined by Peikli with Ozcagatay providing fills. Bono stretches out, scoring with a style reminiscent of Pat Metheny. When Peikli takes over, he puts the clarinet through a pace that might best be described as controlled chaos. He knows where he's going but makes an adventure of getting there. A wordless chant by the vocalists, accompanied by other assorted sounds, sets up the finale.

Born in Oslo, Norway, Peikli was introduced to the marching band at the age of 8. After discovering his love and passion for music, he received a Benny Goodman recording as a gift from his grandfather. Peikli's career began to take off after an appearance at the 2002 Oslo Jazz Festival, which led to other invitations, contest awards and recognition by the national press. Peikli moved to Boston in 2008. Since then, he has met and performed with an array of jazz icons, including Terri Lyne Carrington, John Patitucci, Joe Lovano, Dave Liebman, Eddie Gomez, John Clayton, Herbie Hancock and others. Piekli also uses his music as a platform for charitable causes, including AIDS and UNICEF.