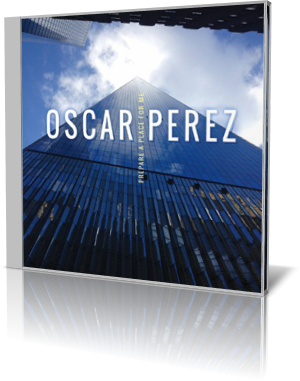 For his first two albums, pianist Oscar Perez focused on his composition. On Prepare a Place for Me (Myna Records, 2015), he shifts toward the playing side.

Performing with Perez are Thomson Kneeland, bass; Alvester Garnett, drums; and on selected tracks, Bruce Williams, alto saxophone.

"Just Everything," a remake of a song from Perez's debut album, begins as a tranquil piece. Kneeland and Garnett figure prominently, even though Perez is out front most of the way. After an easygoing beginning, the gears shift and the trio accelerates to a frantic pace. Which makes sense as the song inspires a visual of three joggers encouraging, helping one another on a long run, each with a different style. Kneeland running head over heels, Garnett with short, choppy steps and Perez gliding along.

"'Round Midnight" pays homage to the Miles Davis interpretation of the Thelonious Monk classic. Inspired in part by Danilo Perez's interpretations of Monk's music, Oscar and his accompanists deliver just enough of the original for familiarity. But the trio injects a hint of flamenco with their stop-time phrases. The high-speed runs give it some extra juice.

Williams joins the crew for the title song. This gospel-inspired song features Williams in the lead. It plays more like a ballad set to a waltz tempo. The piece blends spirituality with beauty and elegance.
Oscar Perez, a protégé of Danilo Perez and Sir Roland Hanna, won second prize in the 2014 Jacksonville Jazz Piano Competition in Florida. He was raised in Queens, New York, on his father's Cuban folk music, with piano lessons and playing in the church band being key parts of his young life. Perez attended new yorks "LaGaurdia High School for the Performing Arts," inspiration for the film and TV series
Fame
. He later graduated from the Jazz Performance program at the University of North Florida. Stage associations include Wycliffe Gordon, Christian McBride, Eddie Allen and Dave Stryker. Perez was pianist for vocalist Phoebe Snow and he has served as music director for St. Edward's Church in Harlem.