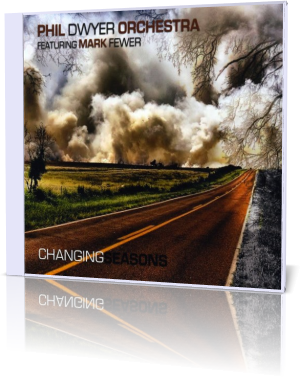 When Chuck Berry recorded "Roll Over Beethoven," he sent a message to the stiff-shirted program directors who had decided that classical music was the only popular music to be played on radio.
The thing about classical that made some artists restless was that the popular compositions were often played the same way. In contrast, jazz musicians loved to take a popular song and change things around.
With Changing Seasons (Alma Records, 2012), the Phil Dwyer Orchestra sends a different message: Classical doesn't always have to sound the same any more than jazz always has to be improvisational. Inspired by Coltrane and Vivaldi, Dwyer integrates a 21-piece string section with a 13-piece horn section, seamlessly moving within and between the worlds of symphonic music and jazz.

The four tracks are aptly titled "Spring," "Summer," "Autumn" and "Winter." They represent the latest collaboration between Dwyer and violin soloist Mark Fewer. The string arrangements are reminiscent of early 20th century classical, such as compositions by Aaron Copland and his peers. The brass and woodwinds move back and forth between giving the orchestra depth and stepping out for some big band style. Dwyer joins the orchestra with additional piano on "Spring" and the tenor sax solo on "Summer." Trumpeter Ingrid Jensen is featured on "Winter."

Augmenting the package is cover art that features a country road with threatening, ground-level clouds in the background. On the rear, the image of a tornado is superimposed with a close-up of sheet music.

Dwyer is a multiple Juno award winner (Canada's Grammy equivalent) and has performed with such artists as Kenny Wheeler, Renee Rosnes and Gino Vanelli.




www.phildwyer.com

www.markfewer.com