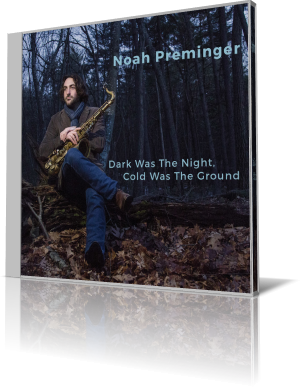 The Mississippi Delta is a powerful force in the music of Noah Preminger. He again taps into the culture that gave birth to America's music with
Dark Was the Night, Cold Was the Ground
(2016).
Noah plays saxophone. On this date, he's accompanied by Jason Palmer, trumpet; Kim Cass, bass; and Ian Froman, drums.
Trumpet and sax trade licks over a riveting bass line to begin "Hard Times Killin' Floor Blues." This Skip James composition takes on different modes. While the horns wail like so many field workers trying to survive an agonizing day picking cotton, the bass drives along. Then, the quartet takes off on a high-speed jaunt with Preminger and Palmer exchanging lines in an intense dialogue. Cass and Froman cut loose underneath. After a frantic middle, the horns step back while Froman stretches out. Then it reverts to the beginning mode.
"Spoonful Blues" was written by Charley Patton, considered the "Father of the Blues" as he was among the first known to play the style of music that ultimately led to rock, soul, country, R&B and other forms of American music. Preminger and Palmer lead with a harmonizing melody. The bass and drums aren't background so much as independent accompanists during this phase. Their play is more complementary but is not limited to just keeping time. Meanwhile, trumpet and sax play freely, taking turns out front, sometimes overlapping. A highlight is when both go through a series of fast-paced, multiple notes per beat, phrases.
The quartet also takes on the melancholy "Love in Vain," written by the legendary Robert Johnson. The arrangement captures all the spirit and anguish of Johnson's classic, and often-covered song.
Dark Was the Night, Cold Was the Ground
follows Preminger's
Pivot: Live at the 55 Bar
(2015), which featured two free-form jazz pieces that were also culled from the culture that inspired the Delta blues, songs that were composed by Bukka White. The raw, unvarnished song of the Mississippi Delta struck a powerful nerve with Preminger. He says the Delta blues is "the most real, most heartfelt music that I've ever heard. It has all the characteristics that I want in my playing: sincerity, storytelling, and an urgency to get my message across."
A native of Canton, Connecticut, Preminger released his debut album,
Dry Bridge Road
, shortly after graduating from the New England Conservatory. His associations on stage or in studio include John and Bucky Pizzarelli, Eddie Henderson, Dave Holland and more.