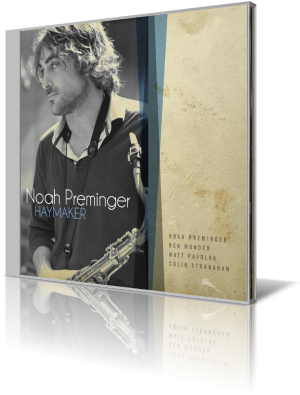 Free expression. That's the signature of
Haymaker
(Palmetto Records, 2013) by tenor saxophonist Noah Preminger. It's a set of 10 songs, seven composed by the artist, one by a member of his band and two covers, including one by one of his musical inspirations, Dave Matthews Group.
With Preminger are guitarist Ben Monder, bassist Matt Pavolka and drummer Colin Stranahan.
"Morgantown," named for a town in West Virginia, opens the set. Preminger's lead is punctuated sharply by Stranahan's timely beats. The song takes on the air of a leisurely romp through the city. Monder's subtle guitar play at times sounds more like the chords of an electric piano. The drum solo evokes an image of town residents pausing in the park to watch a street musician play for the sheer joy of playing.
The title song features Preminger in a slow, steady performance up front, while Stranahan kicks it into high gear as a contrasting complement. Monder and Pavolka hold their own, maintaining support for the leader. It's like having a trio on one side playing this song, while a soloist on the other side is doing something unrelated. Yet hearing them together, one gets a sense that they're listening to each other while remaining independent.
"15,000" may as well be titled "15,000 feet." The track is an expression of another of Preminger's pursuits: skydiving. He says of his first experience in New Zealand, "from the floating to the sheer exhilaration." Clearly, the music of this song, as well as the other tracks, exudes freedom – savoring the moment with no worries about anything negative.
Preminger has performed in such spots as Boston, New York, Europe and Australia. He has played with John and Bucky Pizzarelli, Dave Liebman and many others. He grew up listening to Dave Matthews Band and Phish.
Haymaker
is his third album. His previous releases are
Before the Rain
(Palmetto, 2011) and
Dry Bridge Road
(Nowt, 2008).