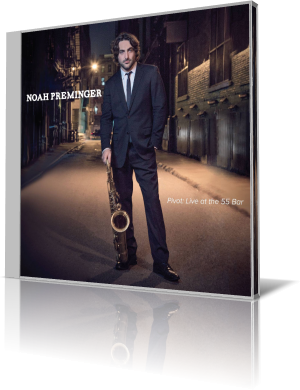 In a time when many artists are releasing cookie-cutter music, albums wherein each song clocks in at a radio-friendly four minutes, it's refreshing when a musician steps outside the box. Saxophonist Noah Preminger does that in a big way with Pivot: Live at the 55 Bar (2015). The album has just two songs, each more than 30 minutes long.

Preminger plays tenor. He's accompanied by Jason Palmer, trumpet; Kim Cass, bass; and Ian Froman, drums.

The songs were recorded "in the heat of the moment" at a Greenwich Village nightspot. Preminger explores his age-old obsession with Mississippi Delta blues. Both songs are culled from one of Preminger's favorite sings, the late Booker T. "Bukka" White.

Track 1 is "Parchman Farm Blues," named for the state prison in Sunflower County, a facility that has inspired many blues songs and is even marked on the Mississippi Blues Trail as a heritage landmark. Channeling the styles of Ornette Coleman, Sonny Rollins and John Coltrane, Preminger plays freely. Cass and Froman jam aplenty in the background. Preminger explores the tenor's throaty depths and soars to squeaking highs. Palmer enters about midway through the piece. Of Palmer's performance, Preminger says, "The way he plays in this band is unlike anything else I've heard him do on record. He has the most amazing technique, along with a beautiful tone and an incredible sense of harmony and rhythmic freedom." The horns come together for the final sequence, playing in harmony with Preminger adding improvised fills.

The other song is "Fixin to Die Blues."

Preminger says that over the past few years, his listening has mostly been limited to Delta blues. "I love all the honesty and emotion in the music, the soulfulness, the phrasing. Just the sound of Bukka White's voice moves me. Those guys like him, they really meant what they were saying, and that's rare in this world."

Preminger grew up in Canton, Connecticut. While still in high school, he studied with sax luminary Dave Liebman. His debut album, Dry Bridge Road, released just after he graduated from the New England Conservatory of Music, is a sextet sessions that earned Debut of the Year in the Village Voice critics poll. Preminger has performed in North America, Europe and Australia. Associations include Dave Holland, Victor Lewis, Bucky Pizzarelli and Liebman.