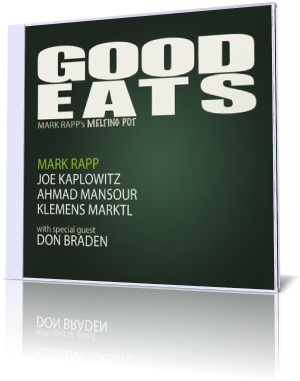 Mark Rapp is becoming widely recognized as one of today's dynamic trumpet players. Diversity is part of what makes him special. Pulling together talents from the United States and Europe, Mark Rapp's Melting Pot delivers a smorgasbord of sound with Good Eats (Dinemec Records, 2011).

Rapp earned a master's degree in jazz in New Orleans, where he studied under Ellis Marsalis. In addition to being a bandleader, Rapp has worked alongside such notables as Hootie and the Blowfish, Dave Brubeck, Esperanza Spalding and Roy Hargrove, among others. His Melting Pot consists of Joe Kaplowitz on Hammond B3 organ, Ahmad Mansour on guitar and Klemens Marktl on drums. Saxophonist Don Braden appears on six of the 11 tracks.

"Alligator Boogaloo" starts with a smoky, blues club vibe, then quickly turns up the sass. This one is definitely meant for dancing. The energetic rhythms, combined with the leads and solos by Rapp, Braden and Mansour make for a fun-filled appetizer.

Rapp breaks out the didgeridoo to give the introduction of "Brother Soul" a haunting, Australian Outback feel, supplemented by Braden's alto flute. The rest of the song is more like a journey across the Arabian desert, guided by Mansour's guitar.

The band also gets funky and sassy with Quincy Jones' "Streetbeater (Sanford and Son)." Mansour's rhythm effects and Marktl's shifting on the kit complement Kaplowitz's frantic solo. Rapp and Braden take things to another level with a playful call and response.

Six of the songs are Rapp's interpretations of compositions by "Sweet Papa" Lou Donaldson, for whom Good Eats is dedicated. The title song is the only original.

Kriss was born in Israel to a British father and South African mother. He began playing flute at the age of 9. He honed his craft at the Tel Aviv School for the Arts and Telma Yellin High School for the Arts. In 2008, he participated in Betty Carter's Jazz Ahead residency program for emerging performers and composers at the John F. Kennedy Center for the Performing Arts. During that time, he wrote and performed new songs, some of which appear on The Shark.