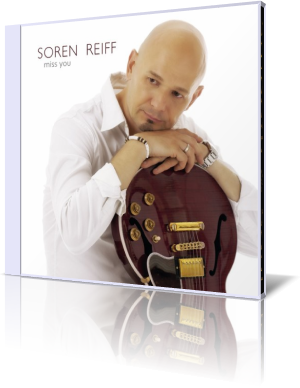 Danish guitarist Soren Reiff has been musical director for some popular music heavyweights -- among them, Chaka Khan, David Sanborn, Robert Palmer and Randy Crawford. For Miss You (DaRoof Records, 2010), he is accompanied by a several stellar session players.

Reiff composed all nine songs; with "At the Café" co-written by Reiff with Niels HP. The variable lineup consists of David Garfield on piano and keyboard, Will Lee and John Pena on bass, Steve Ferrone and Ricky Lawson on drums, Michito Sanchez on percussion, and Veronica Mortensen on vocals.

"Let's Cruise" is deceptive. The first two-thirds of the song seem safely conformist. An easygoing melody, combined with solid but uninspiring background play, makes for an ordinary tune. After a middle break that deviates little from the main theme, the melody briefly returns. Then, Reiff cuts loose. The background accompanists crank up the energy behind the guitar's frantic ad-lib. This is one of Reiff's finer moments.

"Funky Mama," the shortest song in the set may be the coolest. Lee's bass line and middle solo give it an edge. Ferrone and Sanchez provide some extra punch. Whether in rhythm or in lead, Reiff is in a groove.

"Lullaby" is deceptive in another way. Although mellow, it's far from sleepy. As the song heats up, Reiff adds some effects to his guitar, bringing a touch of wah. The closing ad-lib is another of the set's highlights.

For the most part, Miss You is carried by Reiff's playing. Though he has some top-tier session players to back him up, he doesn't give them much to do. It's mostly about catchy rhythms and palatable melodies. Fans of frontmen like Jeff Golub and Chuck Loeb aren't likely to find anything distinctive here. However, if you like electric guitar-led music, it may be worth checking out.