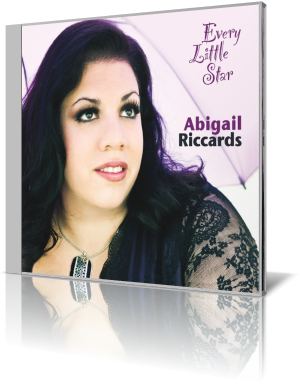 Abigail Riccards has been a fixture on the New York jazz scene since 2000. With
Every Little Star
, she reaffirms her status as interpreter of the American Songbook, delivering her own personal touch to songs that have been covered by many.
Her accompanists are Michael Kanan, piano; Neal Miner, bass; Peter Bernstein, guitar; and Eliot Zigmund, drums.
"I've Told Every Little Star" is a delightful ballad. The singer proudly expresses her love for someone special, having told friends, everyone – even the stars – but the one she loves. The musicians are firmly engaged as if they, too, are in love. Bernstein has the middle solo, playing in a style not unlike Wes Montgomery.
A Fitzgeraldesque scat opens "I Can't Give You Anything But Love." Riccards' rich, earthy voice charms the listener. A highlight is the call and response between Kanan and Zigmund during the middle break.
Riccards delivers a unique take on Bill Evans' "Waltz for Debby." The song begins with voice and brush strokes, later joined by bass and guitar. Riccards breezes through her part, then steps aside for Bernstein.
Riccards is the star here, but
Every Little Star
is a group effort. The voice provides a soothing, enchanting element, while the instruments inject flavor and depth. They all feed off one another, striking an effective balance between leads and background.
Riccards lives in Chicago. She frequently performs in Illinois and New York City, as well as teaches private lessons and workshops throughout the United States. Produced by Jane Monheit,
Every Little Star
sales will benefit the non-profit ArtStrides, a New York-based program that provides educational opportunities to children.