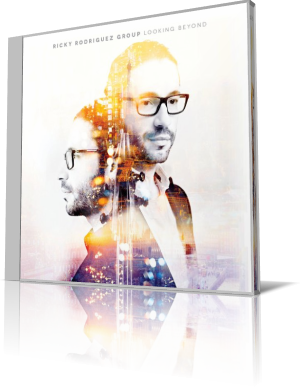 Some artists write music based on their inspirations, and typically feature their own instrument, be it piano, guitar, trumpet or saxophone. However, bassist Ricky Rodriguez composes with the other musicians in mind. In this case,
Looking Beyond
(Destiny Records, 2016) is a collection of songs that feature the sidemen chosen for the project.
Musicians performing with Rodriguez are Adam Rogers, guitar; Luis Perdomo, piano and Fender Rhodes; Obed Calvaire, drums; Myron Walden, alto saxophone and bass clarinet; with special guests, David Sanchez, tenor saxophone; Pete Rodriguez, trumpet and Obanilu Allende, barril de bomba, a hand drum similar to the conga.
"Living" is an easygoing, walk in the park. With the piano and bass setting the pace, the horns blend for the all's well-inspired melody. After the opening sequence, Sanchez goes on a leisurely stroll with sidekicks Rodriguez and Calvaire in tow. As the determination of his strides become more pronounced, Perdomo joins in. With the tenor emoting, the others stretch out a bit underneath. The full ensemble is engaged for a brief transition, leading to Walden's turn out front. A highlight is when the alto builds to climax while repeating the same, two-note wail – like something out of Kenny Garrett's trick bag. The song reverts to the melody and closes with the two saxophones ad libbing until a full stop.
The title song is a percussive array, accented by a vocal dialogue between a caller and a group of responders. Piano and bass assist, with all instruments following no discernible pattern, yet somehow complementing one another. Late in the track, the trumpet adds a bit of softness to what, up until then, had been a hard, rugged experience.
Originally from Ponce, Puerto Rico, Rodriguez is adept at both electric and upright bass instruments. He credits Branford Marsalis and Danilo Perez with encouraging his move to New York City, where he went to as many jam sessions as he could. His first gig was a performance with Luis Bonilla, which became a live record. Rodriguez has also performed with such jazz heavyweights as Chick Corea, Ramsey Lewis and Tony Bennett.
Looking Beyond
combines inspiration from Rodriguez's experience in New York with links to Puerto Rico. All songs were composed by Rodriguez.