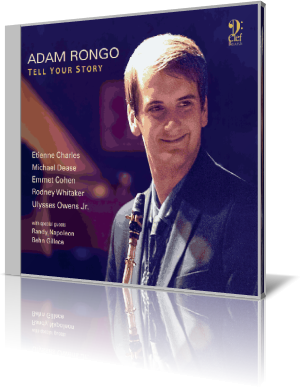 When people in a particular community, or of a certain demographic, become the subject of another's creative work, the word is often given: "If you don't tell your story, someone else will." Saxophonist Adam Rongo takes that to heart with Tell Your Story (D Clef Records, 2013).

Rongo plays alto and tenor saxes. His band consists of Michael Dease, trombone; Emmet Cohen, piano; Rodney Whitaker, bass; and Ulysses Owens Jr., drums. The horn trio of Anthony Stanco, trumpet, Tim Mayer, tenor sax, and Tony Lustig, trombone, appear on three songs. Other musicians appearing here and there are Etienne Charles, trumpet; Randy Napoleon, guitar; Behn Gillece, vibraphone; Miki Hayama, piano ("Good & Terrible"); and Evan Sherman, drums ("Fifty-Six").

The band brings a bright, delightfulness to "You Don't Know What Love Is." The rhythm section is in a tight groove behind Rongo's tenor. Listen for Owens' deft stick work underneath the piano during the middle passage.

"Doppelganger," a Rongo original, is an upbeat song that features Rongo in a duet lead with Charles. Fingers snap, toes tap and heads bob to the rhythm as Charles goes for a pleasure jaunt. One gets the sense that Rongo is standing nearby, smiling with an urge to dance while Charles entertains. Then when it's the leader's turn, his joy comes through the sax. It's been said that music is more enjoyable to the listener when it's obvious the musicians are having fun. That being the case, this song should have everyone grinning.

Rongo wrote three songs for this outing, with Dease and Gillece contributing one apiece. The band handles those as well as the covers with plenty of verve.

Rongo is originally from Essexville, Michigan, and born to a musical family. He had an early interest in saxophone, opera and theater. In 2005, he attended the Interlochen Arts Academy. He spent three years with the Interlochen Ensemble, a select group of musicians who graduated from the institution. Among other studies, he received a master's degree from Michigan State University in 2012. He has taught jazz at the middle school and college levels. And as a professional, Rongo has performed at the Chicago and Detroit jazz festivals, and he's shared the stage with Dease, Owens, Bob James and Branford Marsalis, among others.