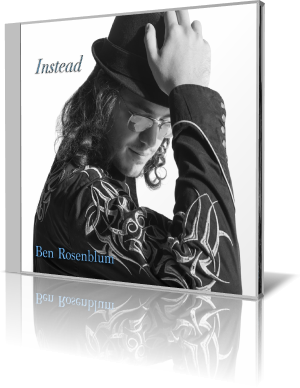 How does one emerge on the scene in a trio format and be distinctive? Well, one way is to bring some original material and take ownership of covers. Pianist Ben Rosenblum accomplishes this with his debut, Instead (One Trick Dog Records, 2017).

Accompanying Rosenblum are Curtis Lundy, bass; and Billy Hart, drums.

Rosenblum successfully avoids sounding ordinary by steering clear of the standards, popular jazz songs that have been covered ad nauseam. Instead, perhaps a hint of the thinking behind the album title, he composes six original songs and reinterprets five others that are a bit off the beaten path.

Rosenblum and his sidemen deliver each song with fire and energy, especially the faster pieces. As the leader, he is out front most of the way, but he doesn't dominate. Lundy and Hart complement him well when the piano has the lead, but they also get their moments to stretch out as well.

Among the standout originals are "Because It's Raining," "Clarisse and Walter," "Blur" and "Azucar." The trio also delivers favorable renditions of Charlie Haden's "First Song," Duke Ellington's "Single Petal of a Rose" and more.

Rosenblum is based in New York City. In 2010, he won the ASCAP Young Jazz Composers award, the Downbeat Student Music Award for Best Original Song, and the Downbeat Student Music Award for Best Arrangement in 2011. He has performed with the Bachiana Brasileira Orchestra at Lincoln Center and in Delhi, India, and he has performed at the Masten Jazz Festival in Buffalo, New York, the Richmond, Mid-Atlantic jazz festivals, Lincoln Center Out of Doors Festival and many others.

Rosenblum is founder of the Columbia Jazz House, a student-run jazz advocacy group at Columbia University, which promotes jazz on campus through concerts, educational workshops and jam sessions.