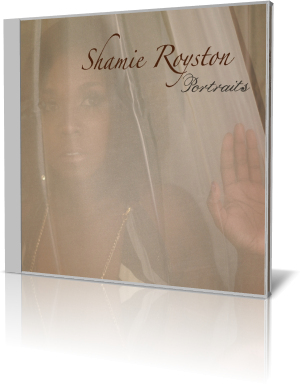 Keep it basic. Keep it simple. And just play your heart out. Those seem to be the thoughts behind Shamie Royston's debut, Portraits (2013). The pianist and composer presents a delightful, straightforward set of eight original songs, plus one classic and one written by a member of her band.


A native of Denver, Colorado, Royston earned a master's degree in Music Composition and has taught music at several levels. For this date, she's accompanied by Rudy Royston on drums and Ivan Taylor on bass. Vocalist Camille Thurman appears on some tracks.


"Run" is a spirited piece that highlights Royston's ability to shift intensity, from placid to dynamic. She gets plenty of help from her sidemen. Though the piano is clearly out front most of the way, bass and drums are firmly engaged throughout. There's one vigorous sequence in which all three instruments are locked in, each doing its own thing while complementing one another. That's the power of group play.


And that sense of group is evident throughout Portraits, which Royston says highlights aspects of her life, including the people who have influenced her. Indeed, some of the selections, like "Homecoming" and "Healing Hymn," are about her family.