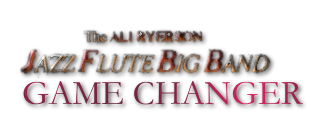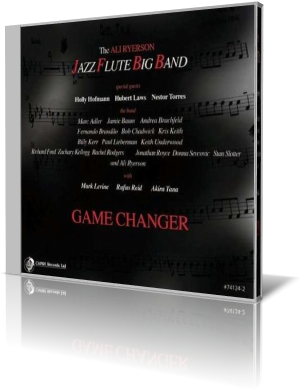 Game Changer (Capri Records, 2013) is as its name implies. The debut release of the Ali Ryerson Jazz Flute Big Band defies convention with a collection of 10 songs by a cross-section of jazz composers but in a different setting.

Ryerson, who plays C and alto flutes, heads a 16-piece section that's backed by a rhythm trio. In addition to Ryerson, the flutists are Marc Adler, Jamie Baum, Andrea Brachfield, Fernando Brandao, Bob Chadwick, Richard Ford, Kris Keith, Zachary Kellogg, Billy Kerr, Paul Lieberman, Rachel Rodgers, Jonathan Royce, Donna Sevcovic, Stan Slotter and Keith Underwood.

With the following exceptions, all play the C and alto flutes. Brandao and Lieberman, C, alto and bass; Chadwick and Sevcovic, bass; Kellogg, piccolo and C; Rodgers, C; and Underwood, bass and contrabass. The rhythm section are Mark Levin, piano; Rufus Reid, bass; and Akira Tana, drums and percussion.

Clifford Brown's "Daahoud" sets the mood early. It is indeed a different feeling to hear multiple flutes as a group in a jazz setting. The music is just like a typical big band, except that it's all flutes instead of the usual combination of trumpets, trombones and saxophones. Lieberman is featured soloist.

The band's rendition of Oliver Nelson's "Stolen Moments" is beautifully done. Melodically, it is what you might expect in how it's played. But to hear an orchestra of flutes puts a unique stamp on it. Special guest Hubert Laws on alto flute is featured soloist.

Dizzy Gillespie's "Con Alma" is the longest piece in the set at nearly nine minutes. Special guest Nestor Torres on C flute is featured soloist. Tana's percussive nuances help punctuate the piece. There's one passage where Reid's bass is in lockstep with the flutes, where in all 17 pieces are playing the same notes.

The band also takes on compositions by Wayne Shorter, Herbie Hancock, Neal Hefti, Gabriel Faure, John Coltrane and Tom Harrell.

Game Changer was a long time coming. In 2002, Ryerson established flute master classes at Carmel Valley, California's Hidden Valley Music Seminars. This was after she'd met promising jazz flutists who weren't getting recognition they deserved because of the atypical instrument they focused on. That eventually led to her creating the Jazz Flute Big Band in 2005. In 2009, she spoke to Capri Records president Tom Burns about recording the band. In October 2012, the session was done over two days.

The result is a satisfying collection of big band jazz music – with no brass.