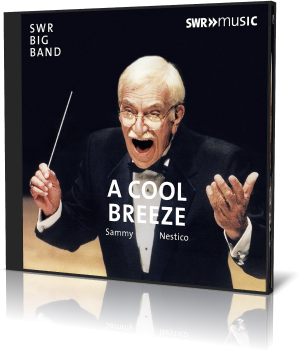 Led by Sammy Nestico, the SWR Big Band delivers big time with A Cool Breeze (SWR Music, 2017). Nestico brings elements of fusion, swing and orchestral sounds with a mix of original songs and classics.

The saxophones: Klaus Graf, Matthias Erlewein, Axel Kuhn, Andreas Maile and Pierre Paquette; trumpets: Nemanja Jovanovic, Felice Civitaraele, Karl Farrent, Claus Reichstaller and Rudolf Reindl; trombones: music director Marc Godfroid, Ernst Hutter, Ian Cumming and Georg Maus; Klaus Wagenleiter, piano and keys; Klaus-Peter Schopfer, guitar; Decebal Badila, bass; and Guido Joris, drums, percussion, mallets and Celtic dulcimer.

"Along Came Betty" is given a pop slash groove treatment, noted especially by the rhythm guitar, drums and laid-back mood of the entire piece. Soloists are Wagenleiter (keyboard), Godfroid and Maile (tenor). The beauty of big band music comes through on this and other tracks, and that's when different sections of instruments carry the melody at one point with others as background or counter-melody, and then another family steps up. Here, all three groups – trumpets, trombones and saxophones – take a turn.

The title song is one of six Nestico compositions. Wagenleiter (piano), Kuhn (tenor) and Schopfer are the soloists. This is a warm, delightful track appropriate for dancing, highway driving, playing with your kids, or simply listening.

A cool breeze of a bass line by Badila opens the sassy "Shirley." Another Nestico original, this might be the coolest song in the set, a tall order. It's one of those head-bopping, toe-tapping, finger-snapping tracks that may tempt you to repeat.

A few of the other classics given the SWR treatment are "Frankie & Johnnie," "Poor Butterfly" and "'Round Midnight."

Based in Germany, the SWR Big Band has a sterling reputation, earning it four Grammy nominations. Though the band stands proudly on its own, it has attracted some stellar talent as guests, including Larry Carlton, Ivan Lins, Curtis Stigers, Pat Metheny and, now, Sammy Nestico.