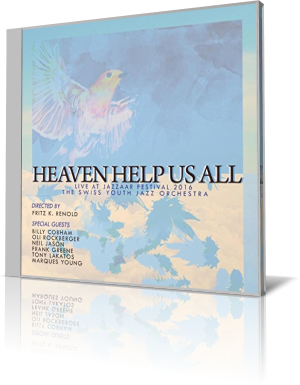 Take some 1960s and '70s jazz, soul and funk, and put them into the hands and hearts of some young people from Switzerland and other countries, you might be astonished by the result. Heaven Help Us All (Shanti Records, 2016) by the Swiss Youth Jazz Orchestra mixes old, new and lots of energy.

The orchestra is comprised of Sharon Renold, vocals and bass; Rit Xu, flute; Sara El Hachimi, alto sax; Felix Piringer, tenor sax and EWI; Mia Stauffacher, baritone sax; Gergo Szax and Dmitry Zinakov, trumpets; Florian Weiss and Sebastian Wey, trombones; Claude Stucki, guitar; Mary Rasshohovatskaya, keyboards; and Roberto Carella, drums. Additional players are Oli Rockberger, vocals and keyboard; Franke Greene, trumpet; Tony Lakatos, tenor sax; Marques Young, trombone; Neil Jason, bass; and Billy Cobham, drums. The orchestra is directed by Fritz K. Renold, who composed two original songs, "Blues for George" and "No Way Boss."

"Ridiculous," was written by and features Rockberger. He sings of a relationship with someone who seems not to notice him. He wonders if it's ridiculous, if it's really out of the question, for them to be together. The sense of longing comes through loud and clear in his singing. After a brief interlude by Stucki, an uncredited soprano sax player cuts loose on a blistering, pleading solo. The song is big band jazz meets old-school soul.

Renold leads on the cover of "Street Life," a Joe Sample composition popularized by Randy Crawford, performing then with Sample's band, the Crusaders. The horn section engages in overlapping responses as the singer delivers the second verse. Piringer offers the spirited tenor solo, part of which is enhanced by the other horns. Renold, whose bass line exudes a groove reminiscent of 1970s funk bands, takes it to another level as she and the horns take their second tour through the "street life!" sequence. Then it's a complete downshift as she softly reiterates the introduction lyrics.

The title song, written by Ron Miller and once recorded by Stevie Wonder, closes the set. Rockberger and Renold share the lead vocal, splitting the verses and harmonizing on the chorus. Alto and tenor saxophones take point on the middle break, amplified by blaring trumpets and more subtle play by the trombones and other saxes. Although the song is a prayer for divine intervention on behalf of humanity, the vocalists bring it with a joyous ending.

The orchestra also delivers some stunning renditions of Cobham's "Red Baron" and "Crosswinds," Mongo Santamaria's "Afro Blue," Herbie Hancock's "Cantaloupe Island," Josef Zawinul's "Mercy, Mercy, Mercy," and Otis Redding's "Sittin' on the Dock of the Bay."

Heaven Help Us All is the orchestra's third album. The album was recording during their performance at the annual Jazzaar Festival in April 2016. The members are 16 to 26, with some from Russia, Hungary and Singapore. Sharon Renold, a United Kingdon-born singer, songwriter and bassist, was 18 at the time of the recording, and is the daughter of director Fritz K. Renold.