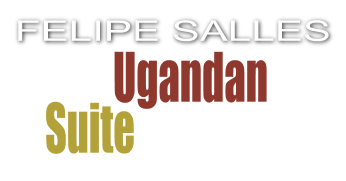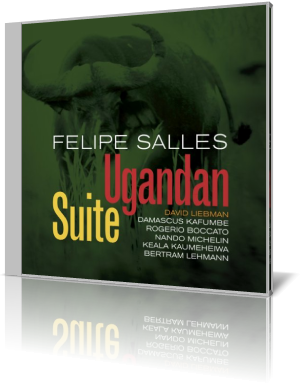 Take pieces of jazz, smidgens of classical and bits of African music, and you're likely to get something close to Ugandan Suite (Tapestry Records, 2014) by Felipe Salles. This unusual, yet interesting approach brings nearly an hour's worth of music.

Salles players tenor and baritone saxophones, flutes and bass clarinet. Fellow wind instrumentalist David Liebman plays wooden flute, soprano and tenor saxophones. Nando Michelin is on piano, and Keala Kaumeheiwa handles the bass. Versatile percussionist Damascus Kafumbe handles several instruments, including tube-fiddle, bow-harp and madinda xylophone. Rogerio Boccato takes care of other percussion.

Each piece is named for a wild animal. "Movement 1 – The Buffalo" begins quietly. Slowly, the beat begins to pick up, possibly indicating a herd on the move. The flute and piano gradually come into the picture, setting up the layered theme, with Salles and Liebman handling multiple instruments. The music comes to an abrupt stop, shifting to a slower, softer mood – as if the herd found a watering hole. The animals rest and drink but with senses on full alert for predators. Then the beat returns as the herd moves on. Liebman plays the soprano with flits here and there, followed by a more rhythmic tenor. One of the horns does some rolling wails, symbolizing an animal crying out. The intensity builds as Salles and Liebman answer each other's calls, at times overlapping. After a narrow escape, the herd moves on.

"Movement 3 – The Leopard" is the shortest track at just under nine minutes. The piano is featured during the easy, soft opening. Then the saxes come in as the song livens up. There's a hint of calypso in the background rhythm. Salles takes the tenor on a joyride during this stage of the piece. The mood is festive.

A native of Sao Paulo, Brazil, Salles has been assistant professor of Jazz and African-American Music Studies at the University of Massachusetts Amherst since 2010. Over nearly two decades, he has performed or recorded with such talents as Randy Brecker, Duduka Da Fonseca and others. Salles has earned several awards, including first place in the Concurso SGAE de Jazz "Tete Montoliu," 2001, with the composition, "The Return of the Chromo Sapiens."

Ugandan Suite is sourced in the East African nation that Salles visited in 2011. There, he investigated music, native wildlife and interacted with local musicians. The result is a diverse interpretation of the experience.