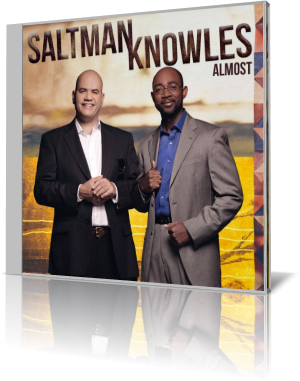 Questions abound with the duo of William Knowles and Mark Saltman. They refuse to be defined by others, yet by their own admission, they're not quite what they want to be – yet. On the brink of establishing that identity, they release SaltmanKnowles – Almost (Pacific Coast Jazz, 2016).

Personnel are Knowles, piano; Saltman, bass; Keith Killgo, drums; Grant Langford, saxes; DeAndre Schaifer, trumpet; Lori Williams, vocals on "What Is This Thing Called Love" and "September in the Rain"; EC3, drums on "This Is New"; Yvette Spears, vocals on "This Is New"; and Victor Provost, steel pans on "This Is New."

Williams joins the ensemble for "What Is This Thing called Love?" It's an easygoing, sassy rendition with Killgo provided a shuffle beat. The interplay among Knowles, Saltman and Killgo is dynamic throughout. Williams delivers a soulful lead. Solos are by Langford and Schaifer.

"I Remember Yusef," a tribute to the late Yusef Lateef, has a Middle Eastern, perhaps Arabian, vibe. Trumpet and soprano sax blend for the melody. On this instrumental, the activity of Killgo, Saltman and Knowles in the background is on almost equal footing. Knowles takes off on a happy jaunt, with Killgo licking his chops in the background. In the liner, Saltman and Knowles acknowledge Lateef as their teacher and an inspiration.

Almost is SaltmanKnowles' seventh release. The title is inspired by Dan Barry's book, Bottom of the 33rd, which tells about the longest baseball game, played by two bush league teams, and the people involved. Saltman and Knowles took the story to heart, inspired by the players' commitment and the similarities they share with musicians. Many days and nights away from home, practice, playing and a never-ending pursuit of their dreams.

The album is also a salute to singer Mark Murphy.