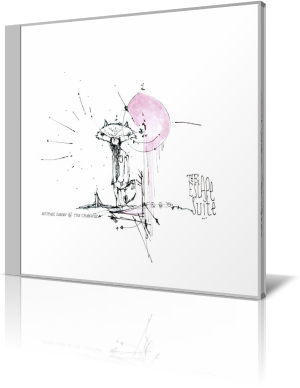 "I don't know. I'm making this up as I go." One of the all-time great movie lines, uttered by Harrison Ford in Raiders of the Lost. It was a testament to Indiana Jones' tendency to improvise to meet an objective when the original plan and backup plan have failed. It's also a sign of a jazz musician doing what jazz musicians do – taking what is known and exploring the unknown. Michael Sarian and The Chabones capture this concept with The Escape Suite (2015).

Sarian plays trumpet. The other band members are Jim Piela, alto and soprano sax; Ricky Alexander, tenor sax; David Banker, trombone on "Brett Atlas"; Christopher Misch-Bloxdorf, trombone; Michael Verselli, Rhodes and Minimoog; Trevor Brown, electric bass; and Josh Bailey, drums.

"Brett Atlas" begins with a bit of spacey underscore behind soft trumpet. When the melody starts, Sarian leads with Alexander answering his calls. The intensity picks up swiftly, only to shut down after the main theme. That haunting, spacey sound returns as the tenor delivers a mellow, groovy solo. Tom rolls accent a few changes of direction. Then, the music swells as the other instruments return, setting up for a dramatic conclusion.

"The Escape Suite" is a trio of songs within the set: "Skirt Shock," "North" and "Chain Mobile."

"Bruises" is a title that contradicts the sound. The music is soft, romantic. Perhaps the character in this story is feeling the symbolic bruise of love gone astray. The horns are subdued. The keys offer an ethereal quality. It's an easygoing, slow dance kind of song. Brown's smooth-funk bass line is among the highlights. If there was a bruise at the beginning, Sarian's warm solo signals the healing process.

Sarian was born in Canada, but his family moved to Argentina when he was just 1. He has performed in the United States, South America and Europe. He began playing piano at age 6, received his first trumpet at 13 and began touring the United Kingdom by 18. Sarian has performed with progressive rock bands in empty basements, 12-piece disco bands on the beach in Uruguay, rock bands in sports arenas and big bands. He earned a bachelor's degree in classical composition and theory from Muhlenberg College, where he studied with Charles Fambrough. After returning to Buenos Aires for four years, he moved to New York City in 2012 to pursue a master's degree in Jazz Studies at New York University. There, he had the opportunity to perform with Joe Lovano, Alan Ferber, Wayne Krantz and others.

Sarian released his first album as a leader in 2014, Subtitles. That was the beginning of The Chabones, an Argentine slang word for "dudes," or "schmucks," depending on whom you ask.