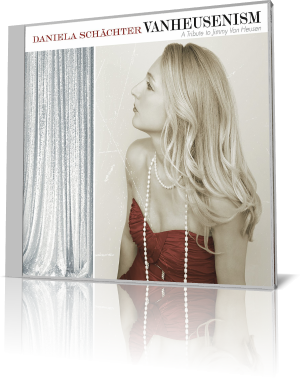 Take some well-written songs, a charming voice and excellent musicians, put them together, and you'll come away with a feast for the ears. Daniela Schachter accomplishes this with Van Heusenism: A Tribute to Jimmy Van Heusen (2016).

The set consists mostly of songs composed by the celebrated songwriter for whom it's named. Many of Van Heusen's songs were recorded or performed by Frank Sinatra.
Schachter sings, plays piano and composed all arrangements. Her accompanists are Mike Tucker, tenor saxophone; Michael O'Brien, acoustic bass; and Mark Walker, drums.

The quartet is solid throughout, with Schachter performing elegantly on the keys, and her voice expressing the love and joy of playing this music. Her voice is at once soothing and enchanting. The musicians complement one another well, each getting an opportunity here and there to stretch out a bit. A few highlights are "Here's That Rainy Day," "Darn That Dream," "Come Fly with Me," and the one original song, Schachter's "Vanheusenism." Schachter even employs a delightful scat during her rendition of "Polkadots & Moonbeams."

Van Heusenism is Schachter's fourth release. Born in Sicily, she studied at Berklee College of Music and the Henry Mancini Institute at the University of California Los Angeles. She won Betty Carter's Jazz Ahead Competition in 2002 and the Mary Lou Williams Jazz Piano Competition in 2005. Performance associations include the Clayton-Hamilton Jazz Orchestra, Terri Lyne Carrington, Patti Austin, Marian McPartland, Regina Carter, Kevin Mahogany, Christian McBride and Shirley Horn. She's also performed under such leaders as Quincy Jones, Patrick Williams, Jerry Goldsmith, Elmer Bernstein and more.

Schachter had performed Jimmy Van Heuson songs during her career. But it wasn't until an interview for a documentary on Van Heusen that she began to look closely into his repertoire. "His songs have both clever lyrics and intriguing harmonic progressions, appealing to the new generation and the older generation as well," she says.