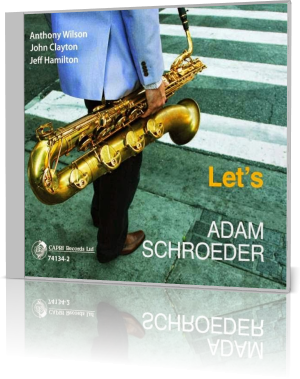 His instrument, the baritone, is considered the warhorse of the saxophone family. So it is that Adam Schroeder goes to battle with
Let's
(Capri Records, 2014).
With Schroeder are guitarist Anthony Wilson, bassist John Clayton and drummer Jeff Hamilton.
"In the Middle of a Kiss" is a leisurely walk through the neighborhood. Schroeder plays with a sense of joy. It's as if he's saying to his accompanists, "Let's just have some fun here." The ensemble plays loose and free, with each musician complementing the sax while setting his own mark.
"A Hawkeye, a Hoosier & Two Cali Cats" is a lively original. The title is a reference to the players' home states. Schroeder is from Iowa, "The Hawkeye State," Wilson is the Hoosier from Indiana, and the others are from California. This is one of five Schroeder compositions in the set. Wilson and Hamilton get to stretch out a bit.
Melodies are what drew Schroeder to include his arrangements of songs by Stevie Wonder, Thaddeus Jones and others. He says they are great tunes that make you smile when you first hear them. That can be said of several original songs as well.
Schroeder started as a bebop-playing alto saxophonist. He switched to baritone in high school. During those years, he got a chance to play in the college band at Clark Terry's International Institute of Jazz Studies. Among the notables Schroeder has performed with are Ray Charles, Diana Krall, Sting, John Pizzarelli, Chris Botti, Bob Mintzer and his friend and mentor, Clark Terry.