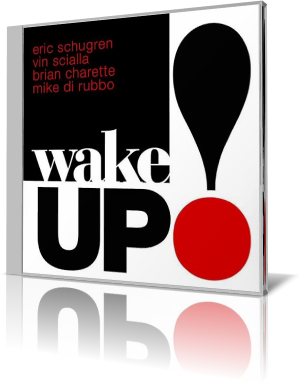 No need for a group name. Just credit all members of the quartet, as each has his own distinct career as a band leader or sideman. They are Eric Schugren, tenor sax; Vin Scialla, drums; Brian Charette, Hammond B3 organ; and Mike DiRubbo, alto sax. The group presents
Wake-Up!
(Liftoff Records/Prime Directive Jazz, 2014).
It's the debut album in a collaboration between Schugren and Scialla. The effort is a blending of the traditional organ trio and contemporary, "World Jazz," expression.
The set begins with Jackie McLean's "Appointment in Ghana." The song opens slowly, brooding. It then shifts into high gear. The two saxophones carry the melody, at times with overlapping phrases. Charette stretches out with some adept stick work by Scialla to support him.
"TC Blues," written by Scialla and Schugren, begins with Scialla setting a percussive pattern. Then the saxes and organ come in. The mood is easygoing if not a little sad. Schugren and DiRubbo complement each other exceptionally well. The tenor brightens things up with a series of rapid-fire rolls. Charette steps in with a charming solo like something you might recall from Booker T. Jones or Jimmy Smith.
Additional musicians who appear on selected tracks are trumpeter Fabio Morgera, trombonist Jeff Fairbanks and percussionist Nano Valerio.
Schugren lives in New York City where he moved from Los Angeles in 2008. Originally from Berkeley, California, he has a degree in ethnomusicology from UCLA and has traveled Europe and China as an ambassador of jazz. Scialla has participated in U.S. Department of Defense tours to the Caribbean, Middle East, Asia and Egypt. Grammy-nominated Charette has worked with many notable artists, including Joni Mitchell and Chaka Khan. He performs regularly all over the world, including 2014 appearances in New York City, Los Angeles, Spain, Indonesia, Czech Republic and Germany. DiRubbo studied under Jackie McLean. He has performed throughout the United States and Europe, his band regularly appearing at New York City jazz clubs and festivals.