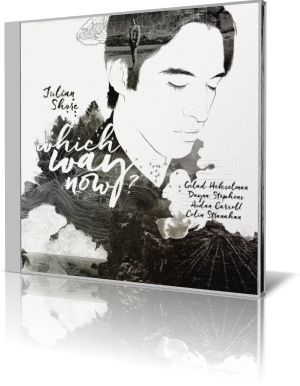 Tranquility is the theme for pianist Julian Shore's Which Way Now? (Tone Rogue Records, 2016).

Shore plays solo on a few tracks. On half the songs, he's accompanied by the quartet of Gilad Hekselman, guitar; Dayna Stephens, tenor sax; Aidan Carroll, bass; and Colin Stranahan, drums. Other contributes are Louis Godwin, alto sax; Noah Preminger, tenor sax and clarinet; Michael Mayo and Alexa Barchini, vocals on "Alpine"; Kurt Ozan, guitar, dobro and pedal steel; Jorge Roeder, bass; Samuel Torres, percussion; and Michael Thomas, clarinet, bass clarinet and alto flute.

Thomas joins the core quintet for "Back Home." It's a tranquil, traveling piece that conjures the image of an individual who had been away, perhaps for college or military service, making a long drive home. The music captures the soothing, calming effect of seeing familiar landscapes after months or years away. It's symbolic of feeling refreshed energy that comes with knowing family and old friends are close. The instruments represent the traveler's mood and reaction to the occasional sight of birds in flight or animals on the ground enjoying an afternoon romp.

Louis steps in for "Moss, Mansion, Sandstorm." The piece begins with a haunting sequence, accepted by cymbal splashes. Then the mood picks up when base rhythm kicks in. Stephens and Louis carry the melody, with Short providing fills. Carroll is prominent throughout. Stranahan has some fun on the kit, changing up his beat during the other solos.

Which Way Now? is Shore's second recording, following 2012's Filaments, which was named the Top Jazz Debut of that year by Peter Hum of Ottowa Citizen. It's Shore's expression of uncertainty.

Born and raised in Narragansett, Rhode Island, Shore grew up listening to his father playing Bach on the family's home piano. He would often sing along as a toddler. He took lessons at a young age and in 2005 received a full scholarship to Berklee College of Music. Under the mentorship of Danilo Perez, Shore performed in a young musicians ensemble at the Panama Jazz Festival, learning from Wayne Shorter, Brian Blade and others. He has since moved to New York, where he has appeared as both a leader and sideman.