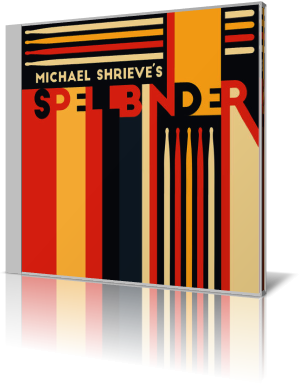 The Santana connection makes magic for the first time in 45 years, leading to drummer Michael Shrieve's Spellbinder (2016).

Shrieve first appeared with Carlos Santana in 1969 at the age of 19. He reunited with Santana in 2015 to record Santana IV. That event reunited the lineup of Shrieve, Greg Rolie, Neal Schon, Mike Carabello and Santana. In a way, that served as the springboard for Spellbinder. For this project, Shrieve is accompanied by Joe Doria, keyboards; Danny Godinez, guitar; Farko Dosumov, bass; and John Fricke, trumpet.

"Pop Raladrao" opens the set in dynamic fashion. This fast-paced, high-energy piece features a driving bass line, engaging rhythm guitar and keyboard lines. The trumpet leads mostly, augmented by effects. Going into the final quarter, Shrieve licks his chops, working out the kit as the others throw in some fills. It's a thrill-a-second start to the album.

"Renewal," a remake of a Monty Alexander composition, takes a mellow, bluesy approach. Doria leads on the slow-cool melody during the first pass. Godinez answers the second time through. The effects-accented guitar paints a haunting picture during the middle solo, at times injecting a spacey vibe, and often taking the instrument to its peak range. After another taste of the main theme, Fricke takes point, his instrument also making the outer space connection. Shrieve powers up the closing sequence, rolling on the toms and cymbals for an effective splashdown.

"Deliverance," one of six tracks penned by Doria, is an upbeat groove. The instruments mix and match, blending here and there, or taking turns standing out front. This one's great for dancing.

Shrieve counts among his inspirations Gene Krupa, Sonny Payne, Jack DeJohnette, Art Blakey, Roy Haynes and Papa Jo Jones.s worth – about half of which is covered by three of the seven tracks – of ear candy.