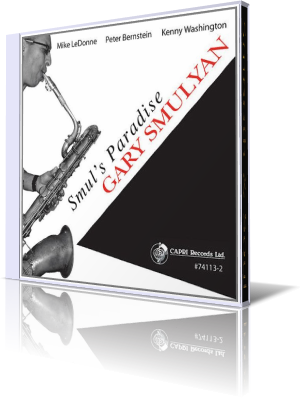 If there's one instrument richer in sound than the tenor saxophone, it's the baritone. No disrespect intended for other instruments, but there's just something about a freely expressive saxophone solo – especially if it's a tenor, or in the case of Smul's Paradise (Capri Records, 2012) by Gary Smulyan.

Though the baritone is the primary instrument, the album is a tribute to organ jazz legends. Smulyan is accompanied by Mike LeDonne on Hammond B3 organ, Peter Bernstein on guitar and Kenny Washington on drums.

The set clocks in at a shade under 53 minutes. The opening track is an extended visit with Bobby Hebb's "Sunny." Guitar and sax meld for the main theme, with some deft work by organ and drums in the background. It's difficult not to think of Jimmy Smith when listening to LeDonne's middle solo. He plays with the same verve that Smith delivered on "Night Train."

Two of the selections were written by Don Patterson, one of Smulyan's heroes. In addition to these, Smulyan dedicates the original composition, "Blues for D.P.," a slow, moody piece. Bernstein is featured more here than on some tracks.

The quartet recorded Smul's Paradise in hours, with no rehearsal time. They got most of the tracks in just one take, giving the entire package a fresh sound, and showing their cohesion as a unit.

Smulyan is 2011 winner of the DownBeat Critics Poll and Jazz Times Readers and Critics polls for baritone sax. His associations include Woody Herman's Young Thundering Herd, Mingus Big Band and Smithsonian Jazz Masterworks Orchestra. Others he has shared the stage or studio with are such icons as Freddie Hubbard, Dizzy Gillespie, Stan Getz, Chick Corea, Tito Puento, Ray Charles and Diana Ross.