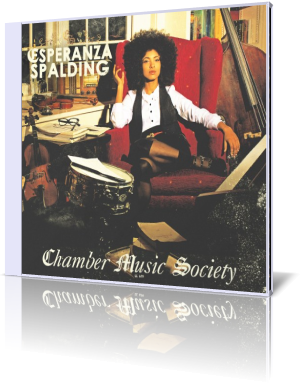 It doesn't get much sweeter than this. Soft, elegant strings and the sweet, angelic voice of Esperanza Spalding. Such is the artist's charming adaptation of "Little Fly," the poem by William Blake. The tranquil, soothing piece opens the adventurous, eclectic Chamber Music Society, Spalding's second release on Heads Up International.

Born in 1984 in Portland, Oregon, Spalding grew up in a multi-lingual household. She took an interest in music after seeing cellist Yo Yo Ma on Mister Rogers' Neighborhood. After teaching herself to play violin, she landed a spot in the Chamber Music Society of Oregon. Years later, after formal training at Berklee College of Music, she caught the ear of renowned bassist Stanley Clarke. Since then, she has earned rave reviews and made numerous television appearances, including the 10th annual BET Music Awards program. Late night talk show host David Letterman has referred to Spalding as "the coolest guest" he's ever had.
It's hard to say that a second recording is wholly representative. However, Chamber Music Society tells a lot about Spalding. It's a melting pot of sound from a charming, young artist who isn't afraid to cross genres or challenge preconceived boundaries. While Spalding plays acoustic bass and provides the voice, she is accompanied for the most part by Leo Genovese on piano, Rhodes and melodica; Terri Lyne Carrington on drums; Quintino Cinalli on percussion; Entcho Todorov on violin; and Lois Martin on viola.

"Knowledge of Good and Evil" is one of seven songs composed by Spalding. Guest vocalist Gretchen Parlato contributes. Early in the song, the voice is like a flute that utters words. Later, Spalding delivers a wordless chant. The bass sings its own tune, while the other strings, piano and drums complement. Carrington injects some well-timed tom rolls. Bass and piano solos help highlight the piece.

"Once autumn's glow / has gone away / and gray cotton clouds / blanket drowsy days / you're the winter sun," Spalding sings to begin another original: "Winter Sun." This is one of the jazzier pieces, with some stop-time rolls by Carrington and straightforward jazz trio play by Spalding, Carrington and Genovese.

Gil Goldstein co-produced Chamber Music Society with Spalding and assisted on some of the string arrangements. Brazilian songwriter and vocalist Milton Nascimento joins for "Apple Blossom." The overall set challenges tradition while demonstrating Spalding's versatility as a musician, vocalist, composer and arranger. Her skill as an artist is matched by her enchanting beauty.